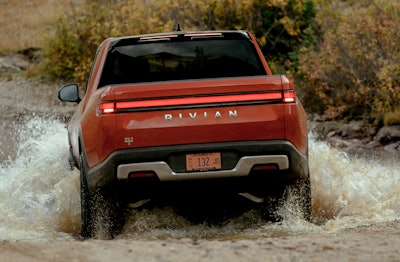 Rivian
As EV manufacturer Rivian faces production delays and pressure from Georgia residents concerning their proposed auto plant near Atlanta, the California-based company can now count billionaire investor George Soros as a major investor.
Soros Fund Management, founded and run by the politically active George Soros, purchased 19.8 million shares in Rivian according to their Q4 report as the struggling start-up faces growing backlash from Republicans in the rural area where it plans to build its 2,000-acre assembly plant.
The Atlanta Journal Constitution reported this week that Republican congressional hopefuls have gotten behind locals who are concerned about the impact Rivian's massive $5 billion plant will have on the environment, their idyllic lifestyle and public coffers.
[Related: Rivian's new Georgia plant expected to triple production]
Residents say they were excluded from a private deal between local, state and Rivian officials that according to AJC "includes $125 million for land and training costs, and tax breaks and abatements [that] will account for hundreds of millions more."
A protest was held by hundreds of Rivian opponents over the weekend at East Atlanta Mega Site, Rivian's future factory site which is roughly 45 miles east of Atlanta. Two Republicans campaigning in that area to represent the 10th Congressional District have continued to speak out against the factory.
On their website no2rivian.org, opponents lay out their concerns for the EV factory including their disappointment in Georgia Governor Brian Kemp, a Republican who backs the plant through the largest incentive package ever offered by the Peach State.
The proposed factory will reportedly create 7,500 jobs at a time when Rivian has faced ongoing production delays for its all-electric R1T pickup and R1S SUV.
Rivian hopes to begin construction on the new plant this summer and roll out new EVs there by 2024. Production is expected to top out at 400,000 trucks and SUVs per year. Once expansion plans are completed at its plant in Normal, Illinois—currently, its only plant—production there is expected to max out annually at 200,000 vehicles.
Rivian's Q3 report released in December showed only 386 R1T pickups delivered since the truck's initial roll-out in September. The company blamed supply chain constraints and growing pains for lackluster production. The company's Q4 and full-year 2021 earnings webcast is planned for March 10.
Amazon is by far Rivian's largest customer. The ecommerce giant, which has a roughly 20% stake in the company, placed an order in 2019 for 100,000 electric Rivian delivery vans. Rivian recently added a fleet section to its website where it will begin taking commercial orders for non-Amazon fleets next year. In addition to their 700 cubic foot van, the EDV 700, plans are in place to produce a smaller van this year, the EDV 500.