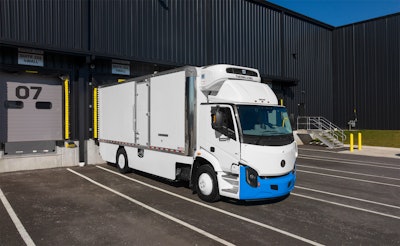 Lion Electric
Lion Electric teamed up with CM Truck Beds, Knapheide, Morgan and Thermoking to build zero-emission commercial trucks on the Lion6 chassis which offers a max range of 200 miles.
The Lion6 electrified refrigerated concept was built in partnership with Morgan Truck Body and Thermo King. The 24-ft. prototype is designed with thermal efficiency and light-weighting in mind.
The all-electric transport refrigeration unit (TRU) used in Morgan's concept vehicle is Thermo King's recently introduced e1000 unit.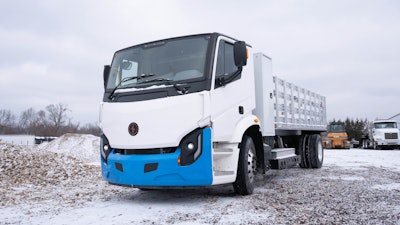 "Morgan's collaboration with Lion Electric on our new refrigerated concept body demonstrates our commitment to providing innovative EV upfit solutions," said Tom Diez, vice president of sales and marketing at Morgan Truck Body. "We are firmly focused on providing best in class solutions to our customers as they transition to a zero-emission future."
Lion's partnership with Knapheide resulted in the Lion6 aluminum platform body with storage pack. The 18-foot platform stake body features an enclosed storage pack behind the truck cab to secure work equipment.
Lion also debuted a larger stake upfit option for the Lion6 with a new 26-foot aluminum platform body in partnership with CM Truck Beds.
Lion reports that its class 6 all-electric Lion6 chassis is designed for urban use and has a range of up to 200 miles on a single charge. Truck design leans on experience gained from over 550 heavy-duty commercial EVs that Lion has in the field which to date have traveled over 9 million miles.
"We are pleased to be working in close collaboration with four industry leaders as we continue to move toward a zero-emission future in trucking, and look forward to continuing to introduce new applications to our highly flexible class 5 to class 8 chassis vehicles," said Brian Piern, Chief Commercial Officer of Lion Electric.
All three trucks were recently on display at The Work Truck Show in Indianapolis.