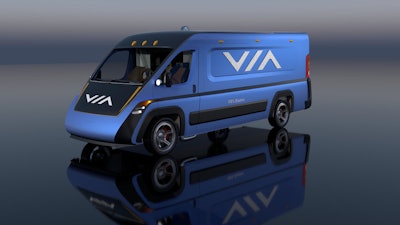 VIA Motors
Roughly three years after its acquisition by Chinese auto giant Zhejiang Geely, VIA Motors, the alt fuel vehicle company founded roughly ten years ago by former GM chairman Bob Lutz, has entered another buy-out deal.
New York-based Ideanomics recently announced its $450 million acquisition of Utah-based VIA Motors which has committed to manufacturing all-electric Class 2 through Class 5 cargo vans, trucks and buses.
Founded in 2010 under the tutelage of GM EV1 guru, Bob Lutz, VIA Motors originally partnered with GM to produce plug-in hybrid pickups and vans for commercial fleets.
The company announced plans for even more extended range vehicles for fleets following its acquisition in 2018 by China-based OEM Zhejiang Geely which also owns Volvo Cars, Lotus, Proton and other vehicle brands.
But now their vehicle line-up online shows only all-electric cargo vans, a step van, a 30-passenger bus and their Class 2-5 skateboard platform. VIA also reports that its working with an autonomous vehicle technology company "to provide electrification of autonomous trucks for short-haul and mid-mile delivery."
VIA plans on rolling out its new commercial EVs in 2022 and 2023.
"This is a transformative deal for Ideanomics," said Shane McMahon, Executive Chairman of Ideanomics. "As we continue to grow into a leader in the commercial EV space VIA Motors adds valuable brand cachet and an exceptional manufacturing discipline to our portfolio. Bob's proven executive leadership has helped establish VIA as a market disruptor and we are excited to welcome him and his team to the Ideanomics family."
According to Nasdaq.com, Ideanomics got its start in China as a video streaming service before jumping into the EV business in 2019. McMahon, also a popular wrestler and shareholder in World Wrestling Entertainment, is credited as a co-founder alongside Chinese businessman Bruno Wu.