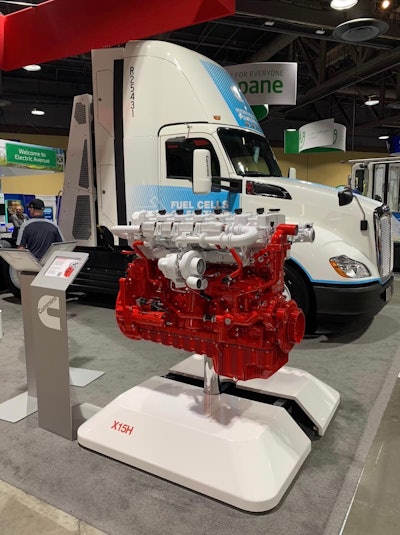 Hard Working Trucks
Werner Enterprises has signed a letter of intent to purchase 500 Cummins 15-liter hydrogen internal combustion engines upon availability, Cummins and Werner jointly announced Wednesday. The Omaha, Nebraska-based carriers' commitment to purchase the zero-emission engines follows plans to validate and integrate Cummins' 15-liter natural gas and Cummins' X15H hydrogen engines – both part of Cummins' fuel agnostic platform – into its fleet and reduce its greenhouse gas emission by 55% by 2035.
"Our customers are showing increased interest in more sustainable choices in the marketplace," said Werner Chairman, President and CEO, Derek Leathers, "and we see significant potential in utilizing Cummins' fuel agnostic platform to continue the momentum toward reducing our carbon footprint."
[Related: Cummins on how hydrogen ICE beats electric on capability and cost]
Since announcing the fuel agnostic platform, which includes a hydrogen option in 15-liter and 6.7-liter displacements, Cummins has responded to customer interest globally about the potential of the platform – hydrogen in particular.
"Our fleet customers have shown tremendous enthusiasm for hydrogen internal combustion engines, which we believe can be a breakthrough technology essential to reaching Destination Zero," said Jim Nebergall, general manager of Cummins Hydrogen Engine Business. "With enough interest, we believe we can manufacture this technology at scale yet this decade providing customers with an option that is a low initial cost, extended vehicle range, powertrain installation commonality, and end user familiarity."
Hydrogen engines offer OEMs and end-users the benefit of adaptability by continuing to use familiar mechanical drivelines with vehicle and equipment integration. This mirrors current powertrains while continuing to provide the power and capability for meeting application needs. Significant reuse of parts and components from Cummins' existing platforms drives scale advantages on cost and is also projected to deliver reliability and durability equal to diesel, Cummins claims.
Hydrogen engines can use zero-carbon green hydrogen fuel, produced by Cummins-manufactured electrolyzers. The projected investment in renewable hydrogen production globally will provide a growing opportunity for the deployment of hydrogen-powered fleets utilizing either Cummins fuel cell or engine power.
Transport Enterprise Leasing, a commercial truck and trailer equipment lease and remarketing provider, last week also signed a letter of intent planning to purchase Cummins' 15-liter hydrogen internal combustion engines when available. TEL will integrate the Cummins' X15H hydrogen engines into its fleet of heavy-duty trucks.
Increasing hydrogen availability
Cummins told
Hard Working Trucks
that Werner trucks equipped with their X15H engines will be used "throughout the country where infrastructure has been established through fueling providers and government funding."
As the hydrogen fueling network slowly expands through dominant fuel players like Shell and Chevron, fleets do have the option of producing their own hydrogen on-site.
"In our view, on-site hydrogen production can certainly be a viable alternative for fleets," said Katie Zarich, director of on-highway communications at Cummins. "For example, two of Cummins' HyLYZER-500's on-site could produce up to 2,000 kg/day. The full on-site fueling solution would include the electrolyzer plant, compression station, hydrogen storage and dispenser(s) to fill the trucks. Our HyLYZER-500 is a modular solution, and modules could be added to accommodate larger fleets.
"The alternative to on-site hydrogen production for fleet fueling is to have the hydrogen delivered to the site," Zarich continued. "This can be done either by large capacity compressed hydrogen trailers (such as a 1100 kg trailer at 350 bar pressure). The trailer is dropped off on the site of the fleet fueling depot and connected to a compressor and dispenser. The trailer provides both the distribution of hydrogen as well as the on-site storage. Whenever a new full trailer is delivered, the empty trailer is picked up."
Hydrogen engines can serve as a bridge to zero-emission powertrains like fuel cell which has helped spur more interest in on-site hydrogen production.
"We are hearing from some fleets that they like they can invest in H2 infrastructure in the near term to support H2ICE, and then continue to utilize that infrastructure when fuel cells are more widely available," Zarich said.
Zarich would not comment on whether Werner and TEL were pursuing on-site hydrogen production.