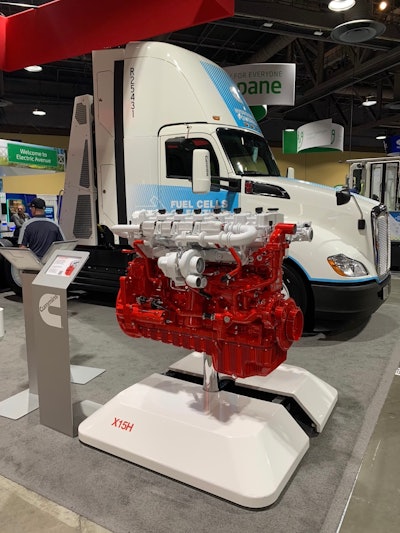 Tom Quimby
Tennessee-based Transport Enterprise Leasing has inked a letter of intent to buy Cummins' X15H hydrogen engines for use in their fleet of heavy-duty trucks.
Unlike fuel cells, the 15-liter internal combustion engines burn hydrogen much like compressed natural gas. Tailpipe results have been recognized as zero emissions in Europe while in the U.S., the California Air Resources Board considers the engines to have emissions since trace amounts of crankcase oil are burned during combustion.
Cummins reports that since announcing their fuel agnostic platform earlier this year, which includes hydrogen combustion in both 15- and 6.7-liter displacements, they've been responding to customer interest globally about the potential of the platform which includes compressed natural gas, propane and gasoline. It's been hydrogen though that's emerged as a front runner.
"We believe this technology is not only essential for the future of our planet but also for our customers to have access to options that work for them," said Jim Nebergall, General Manager, Cummins Hydrogen Engine Business. "Internal combustion engines that run on hydrogen will provide customers a financially feasible and familiar power option."
TEL looks forward to having the X15H in its fleet which Cummins hopes to deliver to them and other fleets in 2027.
"Our customers are at the heart of our company," said TEL CEO Doug Carmichael. "Providing them with the best-value trucks equipped with lower emissions power options will ensure that we are prioritizing their continued success and also reducing our environmental footprint. Cummins' investment in multiple technologies minimizing emissions allows us to achieve both."
Cummins is also pursuing fuel cell and all-electric powertrain development. Hydrogen engines can use zero-carbon green hydrogen fuel, produced by Cummins-manufactured electrolyzers.
"The projected investment in renewable hydrogen production globally will provide a growing opportunity for the deployment of hydrogen-powered fleets utilizing either Cummins fuel cell or engine power," Cummins noted in a press release.
Cummins will showcase its commitment to decarbonization at the industry's largest trade show in Hannover, Germany this September. Cummins will display both medium- and heavy-duty hydrogen products, highlighting the technology's ability to support decarbonization across multiple duty-cycles.