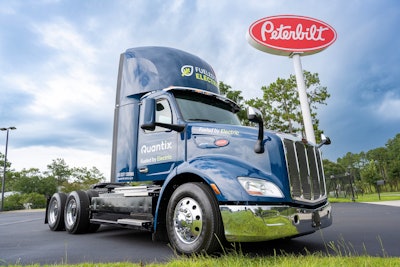 Peterbilt
While it's common to see Class 8 electric truck headlines in California, seeing them in the South is rare.
That's continuing to change as Peterbilt announces the delivery of two Model 579 electric trucks to drayage fleet Quantix for use in Charleston, South Carolina and Savannah, Georgia.
Performance Peterbilt in Tallahassee, Fla. delivered the trucks. Quantix President of Liquid Transportation David Perry told WCTV that the trucks cost $350,000 each.
It's unclear if Quantix received any incentives for the trucks. An electric Peterbilt 579 purchased and used in California comes with a $120,000 incentive though the state's Hybrid and Zero-Emission Truck and Bus Voucher Incentive Project, or HVIP.
Incentives or not, Quantix is making good on its pledge to slash emissions.
"Quantix has very aggressive sustainability goals, and we intend to have 25% of our last mile and drayage fleet powered by alternative fuels by 2030," said Chris Ball, Quantix CEO and President. "The Peterbilt Model 579EVs represent another step as Quantix moves to a greener, safer and smarter future."
The trucks will be used regionally to haul tank containers and dry boxes 20 to 40 feet long according to WCTV.
"Performance Peterbilt has worked with Quantix for many years, and my team is very proud of our continued efforts to help them meet and exceed their business goals," said Nathan Ried, Performance Peterbilt CEO. "We appreciate the dedicated Peterbilt EV team in their support of Performance Peterbilt and Quantix to help incorporate electric vehicles into their fleet."
Designed for optimal weight distribution and performance, the fully integrated, all-electric 579EV powertrain provides a range up to 150 miles. When used in conjunction with a recommended DC fast-charger, the high-energy density battery packs recharge in 3-4 hours, making the 579EV ideal for regional haul, drayage, pickup and delivery and last mile operations.
"Between investment in infrastructure, training and maintenance in partnership with Peterbilt, we have the proper support to incorporate these trucks most efficiently and effectively into our fleet," said Troy Basso, Quantix vice president of fleet maintenance.