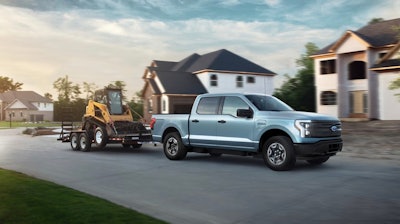 Ford
MotorTrend recently reported on the towing capability of the Ford Lightning and labeled it "dismal."
Ouch!
The popular auto journal tested an F-150 Lightning Platinum with a camper in tow that approached the truck's 8,500 lb. tow capacity.
Writer Eric Tingwall reported that the truck "couldn't even cover 100 miles. Range improved when we hooked up a significantly lighter trailer, but not by as much as you might expect."
The nearly $93,000 F-150 Lightning Platinum has an EPA rated range of 300 miles yet Tingwall reported getting only 255 miles with nothing in tow and with the driver as the only person in the cab.
[Related: Ford tests F-150 Lightning in Alaska]
Tingwall said he followed MotorTrend's EV Road-Trip Range guidelines which includes setting climate control to 72 degrees and keeping the headlines on along with the audio system while shooting for an average highway speed of 70 mph. Road construction slowed that average down over the course of three tests to between 64 and 67 mph.
"We had been warned to expect the range to be cut in half when towing, but the effect of towing these travel trailers proved even more significant," Tingwall said. "With the smallest and lightest trailer, we measured a range of just 115 miles. That figure fell to 100 miles with the middleweight camper and sank to a mere 90 miles with the 7,218-pound Grand Design trailer."
We reached out to Ford for comment on the story and received the following response:
Electric trucks experience similar range degradation that we see when towing with traditional gasoline-powered internal combustion engines. Factors like trailer weight, frontal dimensions and aerodynamic drag, traffic speed, weather, route topography and driver habits all affect fuel economy and range in a similar manner. F-150 Lightning customers can proactively prepare for these affects by allowing the vehicle to calibrate the trailer weight. Within a few short miles, F-150 Lightning intelligently updates distance to empty via the cloud with range predictions from routes added to Ford embedded navigation and factors above. This allows F-150 Lightning to understand the true tow weight and factors above to then create an accurate estimate of range.
We talked with Ford on Monday to see about reviewing an F-150 Lightning. Ford was informed that one of our tests will include hauling a tractor on a 16-foot flatbed, a roughly 7,000 lb. load. We've done this tow test in the past with other pickups including Ford models. In addition to city and highway driving, we also said we'd like to take the truck off-road and get more familiar with charging behavior through both DC fast and AC overnight charging. We'll let you know if Ford will be sending a Lightning our way as we're fully aware that fleets and consumers alike have questions about capability, charging, maintenance, etc.