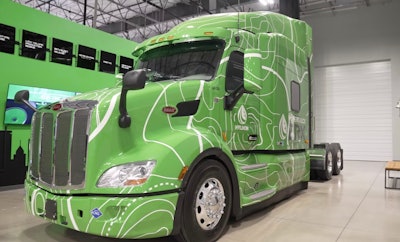 Hard Working Trucks
Hyliion announced that it will be acquiring a fuel-agnostic generator from General Electric that is expected to drastically cut emissions and increase fuel efficiency by up to 20% in its hybrid ERX.
Hyliion CEO Thomas Healy told CCJ that GE approached his Texas-based company about a year ago with the Karno generator which Healy said is lighter and smaller than current generators on the market and is capable of running on both gaseous and conventional fuels.
The unit relies on flameless oxidation to produce heat which in turn is used to generate electricity. In a lab setting, flameless oxidation has shown up to a 20% gain in fuel efficiency.
"GE has been doing this as a skunkworks kind of project," Healy said. "They're using learnings from jet engines because it actually came out of their aviation division."
[Related: Hyliion, Cummins announce partnership on hybrid truck]
In addition to flameless oxidation, the Karno generator also "leverages 3D printing of components which allows us to increase the efficiency," Healy added. "We actually have some metal like heat exchanger parts inside the generator that actually come off of a 3D printer."
In a laboratory setting, flameless oxidation in the Karno generator has slashed emissions. "It produces extremely low emissions," Healy said. "It's not like a combustion engine. Flameless oxidation converts the fuel into heat. That heat is then used to drive a linear generator system and that's what produces the electricity."
Emissions results from hydrogen have been the most impressive.
"It's basically at a level where when you're running it on hydrogen, the laboratory engine equipment can't notice any emissions coming out of it," Healy said. "It's ultra, ultra low emissions. I put it on par with a fuel cell from that standpoint."
Efficiency gains are expected to surpass fuel cell. The generator will run on various gaseous and liquid fuels such as diesel, natural gas, hydrogen, propane and ammonia.
"We're going to be more so pushing hydrogen and natural gas but yes it can use conventional fuels as well," Healy said.
Once the Karno generator is spec'd to run on a certain fuel, it can be changed later to run on other fuels so long as the fuel supply system is compatible with that fuel.
"The only change we see is that you would need to make sure your [fuel] tanks are spec'd correctly," Healy said. "Obviously, diesel tanks are different than natural gas tanks. So that's the only change we see. The generator we expect to stay the same."
Road testing is expected to begin in the "next couple of quarters," Healy said with rollout anticipated in 2025.
The Hypertruck ERX equipped with the "natural gas Cummins engine" will be commercialized and released in late '23. And then in a couple years after that is when will actually be bringing this solution to market."
Hyliion's transaction with GE is subject to customary closing conditions and is expected to close by the end of Q3 2022. With an acquisition value of ~$37 million, GE will receive $15 million in cash and approximately $22 million in Hyliion stock. Hyliion will acquire the generator technology and integrate the Cincinnati-based engineering team that created the KARNO system into Hyliion.