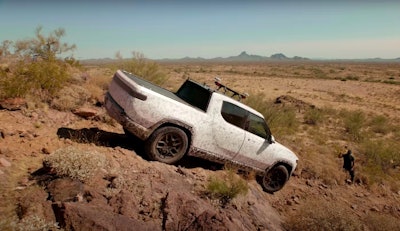 Rivian
As if a microchip shortage isn't enough to rock fledgling EV manufacturer Rivian, company CEO RJ Scaringe is now warning of an industry-wide battery shortage.
Scaringe told The Wallstreet Journal this week that a powertrain battery shortage could prove to be greater concern than a crimped microchip supply unless industry steps up to increase production.
"Put very simply, all the world's [battery] cell production combined represents well under 10% of what we will need in 10 years," Scaringe told reporters during a recent tour of the company's sole plant in Normal, Ill. "Meaning, 90% to 95% of the supply chain does not exist."
[Related: Proposed Rivian plant near Atlanta becomes political hot potato]
Tesla CEO Elon Musk also offered bad news on EV batteries recently when he tweeted about soaring lithium prices which ultimately impact EV prices. "Price of lithium itself has gone to insane levels!" Musk posted on Twitter. "Tesla might actually have to get into the mining and refining directly at scale, unless costs improve.
"There is no shortage of the element itself as lithium is almost everywhere on Earth, but pace of extraction/refinement is slow," Musk continued.
While the semiconductor shortage has impacted new car production at Rivian and other manufacturers, a battery shortage would stretch out production time-lines even further.
"Semiconductors are a small appetizer to what we are about to feel on battery cells over the next two decades," Scaringe said.