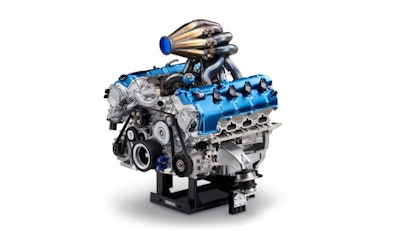 Yamaha
Mention Yamaha and images of motorcycles, four-wheelers, boats, musical instruments and a whole range of products come to mind—but not a hydrogen-fueled V8. Nope.
Well, you can now add that emissions-slashing engine to their R&D lineup as they work to develop a 5.0-liter engine that runs on hydrogen for auto giant Toyota.
The engine is being developed for vehicle use and is based on the V8 used in the Lexus RC F coupe, according to CNBC. The engine can crank out as much as 450 horsepower at 6,800 RPMs.
Similar to Cummins which recently announced a fuel-agnostic powertrain line-up to serve as part of a 40-year bridge to zero-emission powertrains, Yamaha also sees internal combustion playing a vital role in reducing emissions for years to come.
"Hydrogen engines house the potential to be carbon-neutral while keeping our passion for the internal combustion engine alive at the same time," Yamaha Motor President Yoshihiro Hidaka said.
We reached out to see if Toyota has plans to use the engine in Tundra or a Hino truck but didn't receive a response in time for publication.
While hydrogen of late is normally associated with fuel cell development, the world's most prolific element has been used in internal combustion before. Hydrogen-powered prototypes from Toyota include the GR Yaris and Corolla Sport. BMW's short-lived Hydrogen 7 was a luxury car in the mid-2000s that could burn either gasoline or hydrogen.
According to Advanced Clean Transportation News, hydrogen has an energy density that is nearly three times that of diesel or gasoline. Hydrogen remains costly to produce and very limited in availability compared to other alternative fuels.
The Department of Energy's Alternative Fuels Data Center currently shows only 48 hydrogen fuel stations in the U.S., all of which are located in California.