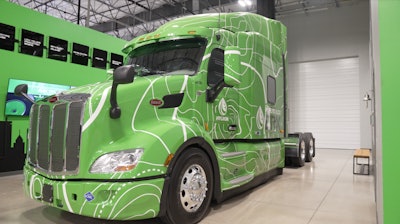 Hyliion
As Hyliion pushes for a greater stake in green powertrains the struggling start-up might be getting some tougher competition from engine giant Cummins.
Cummins announced Tuesday it plans to acquire axle manufacturer Meritor—the same company that supplies Hyliion with eAxles for its Hybrid EX and pre-production Hypertruck ERX.
Hard Working Trucks' sister publication, Commercial Carrier Journal reports that Cummins views the Meritor acquisition "as a critical integration point within hybrid and electric powertrains." CCJ further points out that "Meritor's product suite will allow Cummins to offer a fully integrated powertrain—from the engine, to the transmission to the axles."
While not confirming plans for a hybrid powertrain in North America, a Cummins spokesperson told Hard Working Trucks today, "Adding Meritor's eAxle products and EV powertrain integration capabilities to Cummins' complementary capabilities and customer knowledge will create the opportunity to drive technology development, expand Cummins' new power product portfolio and meet customer needs as they transition to hybrid and electric vehicles."
The spokesperson further added that Cummins "plans to support customers with both diesel and new power products" and that they "look forward to earning the trust of Meritor customers it does not work with today and is excited to build on those relationships."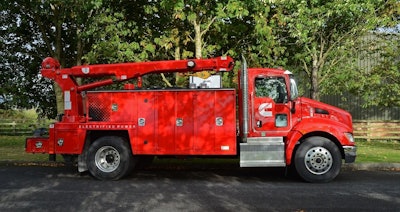 In the acquisition announcement on Tuesday, Cummins CEO Tom Linebarger made it clear that Meritor's eAxle will be playing a key role in the company's New Power division.
"[The Meritor acquisition] allows Cummins to think about whole systems and components much the way we've been thinking about it from an engine point of view," Linebarger said. "The eAxle becomes the new engine block where you start to hook all the components to."
On Cummins' website, the current technologies shown on the New Power page are zero-emission fuel cell and all-electric applications. Though not listed, hybrids have played a role at the Indiana-based company. In 2018, Cummins announced medium- and heavy-duty series and parallel hybrid powertrains for the European market through its then newly announced PowerDrive division.
Also, when recently announcing its fuel agnostic engine platforms, Cummins said the transition to zero-emission powertrains would require leaning on evolving internal combustion technology for the next 40 years or so. But for the time being, it looks like most engines in Cummins' lineup will be riding solo under the hood.
"We still have capability and believe hybrids have a role in the shift to decarbonized solutions, but have seen stronger demand for fully electric solutions," the Cummins spokesperson said. "The market here quickly shifted to demand all-electric solutions and so we have a fully electric system that leverages similar core technology from some of the initial hybrid systems. However, these systems have evolved tremendously from those that were deployed just a few years ago."
Neither Hyliion or Meritor would comment on the possible impact that Cummins' Meritor acquisition might have on Texas-based Hyliion. However, Hyliion founder and CEO Thomas Healy told Hard Working Trucks late last week that his company's hybrid powertrains are competing with all-electric trucks and that his powertrains offer advantages like much greater range (over 1,000 miles in the ERX), greater payload capacity given less battery requirement and a much smaller upfront investment when utilizing current natural gas stations across the U.S. Both Hyliion and Cummins advocate using renewable natural gas which has a negative carbon intensity score that far outperforms all other fuels including electric.
Hyliion's proprietary software and battery production could prove key in distinguishing itself from competitors. Recent new hires at its headquarters in Cedar Park, Texas near Austin include additional software engineers. The company's fourth quarter and end-of-year earnings report will be released tomorrow morning. Company stock value has seen a 92% plunge since its roughly $50 high in September 2020.