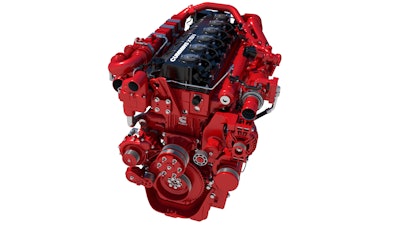 Cummins
In response to growing customer demand amid tightening emission regulations, Cummins announced today the industry's first fuel-agnostic internal combustion powertrains.
Developed for pickups to Class 8 long-haul, the carbon-cutting powertrains are meant to be a bridge to their zero-emission all-electric and fuel cell offerings which the company acknowledges may not be an ideal fit currently for all fleets given higher upfront costs, range issues and fuel infrastructure challenges.
Cummins' biggest embrace yet of a growing menu of low carbon fuels will be applied across their B Series, L Series and X Series engine lineup. Fuel choices will include diesel, natural gas, hydrogen, propane or gasoline. Once spec'd, engines will run on one fuel only.
The first engine expected to roll out in 2024 will be a 6.7-liter gasoline-ready option, which Cummins sees as a good fit for pickups and other vehicles needing "diesel-like durability and performance," according to Cummins' president of engine business Srikanth Padmanabhan.
[Related: Isuzu, Cummins to partner on electric truck]
The next engine will be a 15-liter engine capable of running on natural gas. Diesel will come next followed by a hydrogen-fueled variant.
Cummins' vice president of on-highway, Brett Merritt, sees the 15-liter natural gas option as a good fit for most of Class 8 long-haul.
"We can hit much of the duty cycles needed today," Merritt said of the big bore. "There's a small percentage of the market of team drivers who are really doing long mileage that we still have work yet to do."
A growing list of biofuels, particularly carbon-negative options like renewable natural gas and biopropane, are opening up options for fleets to reach sustainability goals without incurring the costly transition to all-electric which Cummins reported could amount to roughly three times the expense of internal combustion. Currently, going all-electric in Class 8 typically only pencils out for fleets where generous government incentives come into play like in California, home to the nation's busiest ports.
When it comes to acquiring Cummins' fuel-agnostic powertrains, Merritt doesn't believe "that government incentives will be the largest driver." However, fueling infrastructure may require some government assistance depending on the fuel.
"As we think about renewable natural gas and/or hydrogen distribution later on, undoubtedly, government investment will have to take place for some of those," Merritt said. "But as it stands today, we believe this really gives the power of choice back to the customer to be able to utilize whichever [fuel] works for them without incentive."
New architecture intended to drive down costs, improve performance
Cummins' new fuel-agnostic engines will feature a series of engine versions derived from a common base engine. Component similarity below the head gasket will drive down production costs and help reduce the learning curve for technicians.
The engine build from the head gasket up will determine fuel spec which Cummins does not recommend changing. Each engine version will operate using a single fuel only.
"This is a new way of designing and developing lower emission internal combustion powertrains that meet the unique needs of the transportation industry while leveraging the benefits of a common product architecture and footprint where possible," said Jonathon White, Cummins' vice president of engineering and engine business. "This unique technology approach will allow end users to more seamlessly pick the right powertrain for their application with the lowest CO2 impact."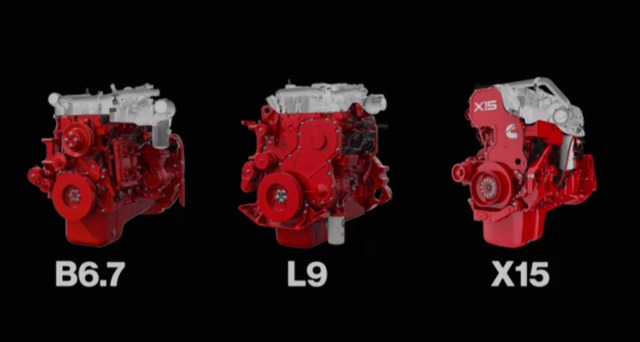 A screenshot of Cummins' presentation today shows their fuel-agnostic offerings. Everything below the head gasket will share a common base engine as shown in red. This will help reduce costs associated with acquisition, part replacement and technician training.Cummins
The new fuel-agnostic platform has been designed to deliver greater performance.
"Every engine and powertrain mass is going to be optimized to a level that we've not been able to achieve in the past," White continued. "Through our analysis-led design, we've been able to reach some new levels in terms of power density."
[Related: Renewable natural gas gaining momentum with fleets]
The timing of engine availability will vary.
"It depends on which platform," said Amy Boerger, Cummins' vice president of North America on-highway. "When we look at the B platform, the first one we plan to launch is gasoline and we'll follow the other fuels after that in a staged launch. On the 15 liter, it's natural gas first then diesel will follow shortly. In the midst of that, we'll start some prototypes of the hydrogen internal combustion engine with the 15 liter."
White said the first engine to launch, the gasoline-fueled 6.7-liter, has some "commonality with the European development that we've been working on for many years and we've been simulating that for years prior to that."
Parts commonality will offer increased benefits for both truck OEMs and end users, including similar engine footprints, diagnoses and service intervals. This means it will be easier for OEMs to integrate a variety of fuel types across the same truck chassis and there will be minimal costs to train technicians and re-tool service locations, resulting in a lower total cost of ownership for the end user.
Sustainability goals at various companies around the world have been driving more interest at Cummins for powertrains that can reduce or eliminate vehicle emissions all-together.
"We have some customers where electric works for them right now," Merritt said.
For others, there's Cummins' fuel-agnostic options which Padmanabhan said will play a vital role as Cummins transitions to its own plan of sustainability in 2050 dubbed Destination Zero where it's aiming to curb emissions in its products and the power used to produce them.
"We think for the next 40 years or so, internal combustion engines are still going to be there as a transitory technology before we get to that Destination Zero," Padmanabhan said.