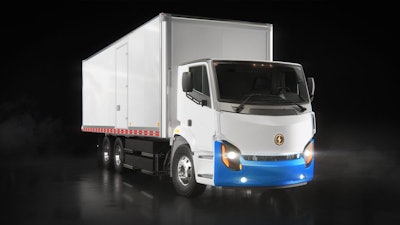 Lion, a manufacturer of all-electric school buses and minibuses, on Tuesday at ATA's Technology & Maintenance Council (TMC) Annual Meeting in Atlanta showcased its Lion8 Class 8 truck – marking the electric unit's U.S. trade show debut.
The truck made its global debut in Montreal last week. The company says its Lion8 truck will be commercialized later this year with first deliveries headed to Société des Alcools du Québec (SAQ), a pro\vincial Crown corporation in Quebec responsible for the trade of alcoholic beverages within the province.
The Lion Electric Co., revealed last May at Michelin's Movin' On summit in Montreal its all-electric 26-foot minibus. The eLionM is a 160 kWh vehicle, custom-built with a low-floor for the paratransit, transit and urban segments. It features a range of 150 miles on a single charge. The electric motor offers up the equivalent of 200 horsepower.
Marc Bédard, Founder and CEO, The Lion Electric Co., says list price for the truck will vary depending on how many battery packs are spec'd on the unit but says he expects the Class 8 to retail from between $300,000 to $350,000.
"The feedback we're getting now, we see a lot of interest," he says, noting the company's initial production target is 1,000 units.
Lion has the largest fleet of all-electric Type C school buses in North America, having already deployed more than 150 eLionC school buses and logged more than a million miles.
The Lion8 features a range of up to 250 miles on a single charge and offers an "80 percent energy cost reduction," the company says. Lion8 components require little maintenance, driving down operational costs upwards of 60 percent according to the company.
Lion says it already has orders and committed buyers for the Lion8, including from SAQ. The first units are available for reserve with a $5,000. Deposits for additional units are $1,000 each.