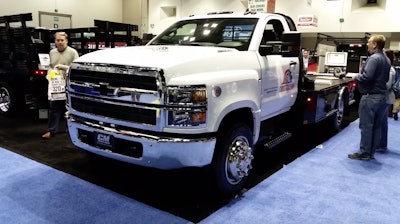 CM Truck Beds is feeling pretty excited about the new 2019 Chevy Silverado medium-duty.
"No doubt about it, work truck enthusiasts everywhere are looking for the new Chevrolet Silverado and at CM Truck Beds we have a body to fit it," said CM Truck Beds Vice-President Joe Lewis.
While at The Work Truck Show in Indianapolis, Lewis gave us a tour of his company's SK flatbed (video below) which was designed specifically for Chevy's medium-duty lineup.
The bed features a one-piece tube headache rack with plenty of tie-off points. Exterior tie rails on either side of the bed provide even more places to secure loads.
The larger chassis of Chevy's medium-duty trucks allow for a six-inch structural channel, an increase of two inches over other SK flatbeds.
Integrated tool boxes are positioned on both sides of the bed which is topped by 1/8-inch thick treadplate decks. A 30,000-lb. B&W gooseneck ball rests at the ready in the center of the bed while a 24,000-lb. bumper pull hitch sits at the rear (that standard hitch is a 6,000-lb. increase over their prior standard bumper hitch).
"We know that customers that are going to be using this chassis cab are going to be looking to tow more," Lewis said.
CM truck bodies are coated with Tex Armor proprietary gelcoat powder primer and a powder coat top coat. Bodies come with a one-year warranty while CM's LED lights are covered by a lifetime warranty.