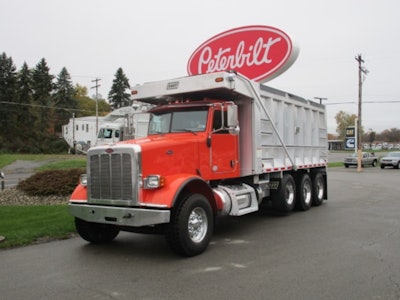 Peterbilt Motors Company announced a new warranty option this week for Red Oval Certified Pre-Owned truck customers.
The new warranty option provides customers the ability to extend Peterbilt's factory backed comprehensive pre-owned warranty to two-years/250,000 miles. This warranty is offered and administered through Peterbilt's more than 370 dealers and PACCAR Financial Used Truck Centers. Peterbilt currently provides a standard one-year/125,000 mile PACCAR Engine Pre- Owned Warranty for the MX engine and aftertreatment system with the purchase of a Peterbilt Red Oval Certified vehicle.
"The Peterbilt Red Oval program is a great way for customers to find certified pre-owned Peterbilt trucks with low mileage in like-new condition," said Robert Woodall, Peterbilt's Assistant General Manager – Sales and Marketing. "Adding the option of extending the PACCAR Pre-Owned Warranty for the MX engine and aftertreatment systems to two years will increase buyer assurance and confidence."
Peterbilt Red Oval Certified vehicles pass a comprehensive 150-point factory certified inspection performed by factory-trained service technicians. All Red Oval certified trucks are reconditioned and serviced, including DPF cleaning and an oil and filter change. Additionally, every Red Oval truck is D.O.T. certified. All Peterbilt Red Oval certified vehicles come with a 90-day buyer assurance plan covering major chassis components.
Red Oval certified truck inventory is available for browsing on Peterbilt's Red Oval website: www.peterbiltredoval.com.
Peterbilt Motors Company, located in Denton, Texas, has a global reputation for superior quality, industry leading design, innovative engineering and fuel efficient solutions, and is recognized as the "Class" of the industry.
Peterbilt provides a comprehensive array of aftermarket support programs through its 370-plus North American dealer locations that complement its full lineup of on-highway, vocational and medium duty products, including alternative fuel vehicles. Peterbilt offers industry leading service and support, including SmartLINQ connected truck technologies, expedited Rapid Check diagnostic services, the Red Oval certified used truck program, automated parts inventory replenishment and 24/7 complimentary Customer Assistance through 1-800-4-Peterbilt.
For more information about Peterbilt, visit www.peterbilt.com. Peterbilt is a PACCAR Company, traded publicly on the NASDAQ as PCAR.