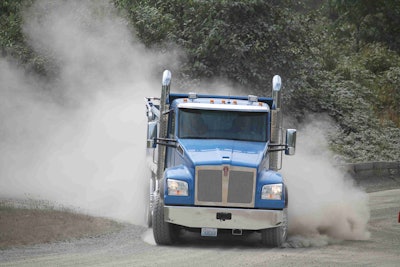 Early next year, Kenworth will make available for order a Paccar Powertrain Fuel Economy Package, which will include an MX-13 engine with a new 405-hp at 1,650 lb-ft torque rating.
That engine will be matched to a Paccar 12-speed automated transmission and Paccar 40K tandem rear axle, and will feature an enhanced predictive cruise control technology.
"One of the bigger contributors [to improved fuel economy] is the deeply integrated predictive cruise control function, which varies the vehicle's speed over rolling hills without reducing the average vehicle speed," says Kenworth Marketing Director Kurt Swihart. "The transmission software is also optimized for the Paccar MX-13, allowing for lower engine RPMs at cruising speeds."
The MX-13 engine uses a new torque curve that Swihart says further refines the engine's fuel economy performance in line-haul and regional haul applications by lowering the engine's horsepower rating while maintaining torque.
The Paccar Powertrain Fuel Economy package will be available in the first quarter of 2019.
New cab interior color schemes for T680, T880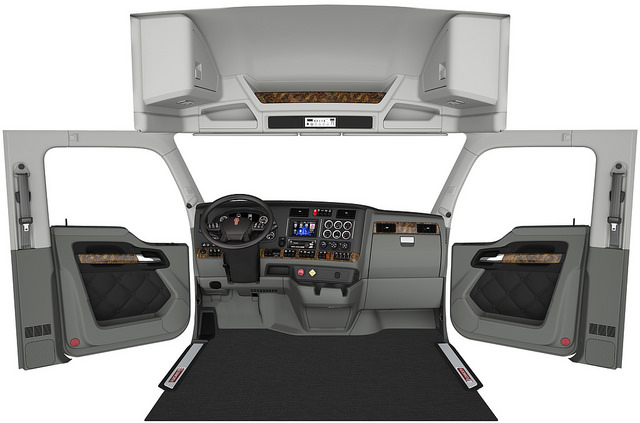 Kenworth, also set for trucks under production next year, is adding new interior colors and stylings on its on-highway Kenworth T680 and vocational Kenworth T880 models. The new choices will also be available on the newly introduced Kenworth W990.
All new color options will be available with both Diamond VIT and Vantage interiors.
Swihart says the company created the new color schemes to give Kenworth cabs a "nice, new refresh."
The new colors include a black dash top and updated hydrographics accent trim panels. The door pad trim colors are updated to match, providing a contrast. Seats underwent the biggest visual change with new seat color and pattern options. Seat covering choices – standard cloth, DuraSupreme, Ultraleather and leather (two-tone) – are now available in Slate Gray or Tan. Trim accent colors are offered in two trim levels, Diamond VIT and Vantage, both in Slate Gray or Tan color options.