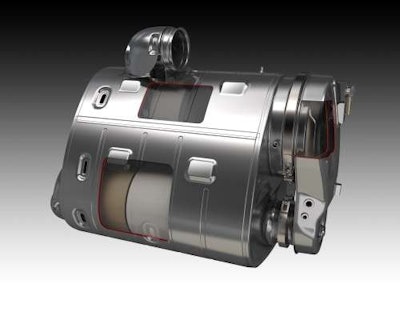 Volvo Group, the global umbrella company of Volvo Trucks North America, has discovered that components of its emissions control systems are degrading "more quickly than expected," which could cause the engines to fall out of compliance with emissions standards. The company announced the discovery Tuesday.
Claes Eliasson, spokesperson for the Volvo Group, said the degradation likely affects trucks in the North American market, but "to what extent we don't know," he said. The company is investigating the issue, he said. The affected component is part of the selective catalytic reduction system, implemented in nearly all Class 8 truck engines in the U.S. to meet 2010 emissions standards. SCR systems use diesel exhaust fluid to reduce emissions of nitrogen oxide and greenhouse gases.
"The scope is not really known to us yet," he said. "We are collecting data to see which geographies and which engines and vehicles that have this component."
There's no safety or performance issue related to the degradation, Volvo said in a press release. It's only a matter of emissions control. The company noted that the "largest volume of potentially affected engines has been sold in North America and Europe."
Cummins in July announced a massive voluntary recall – as many as half a million engines – over a similar issue. The company found that a component within its SCR system was subject to unexpected degradation, causing the engines to no longer be compliant with emissions standards. Cummins said in a financial filing earlier this year that it had set aside $200 million for a repair campaign.
Volvo said Tuesday that it is "not yet able to estimate the volume of engines or vehicles that may need to be addressed," and therefore cannot "assess the financial impact at this stage."