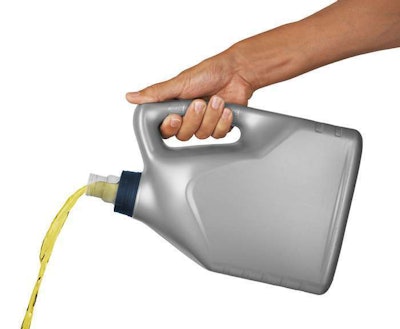 When new fuel emission standards came into play in 2014, engine OEMs more closely embraced lower viscosity oils. However, some fleets have been reluctant to turn to a thinner fluid whose sole purpose is to prevent hot metal engine parts from seizing up.
Lower viscosity oils reduce viscous drag since their thinner nature flows faster and more smoothly through the oil pump and system, leading to a fuel efficiency increase of up to 2 percent.
The first step in evaluating a potential change in viscosity grades is knowing if the equipment can handle it. Paul Cigala, ExxonMobil CVL Applications Engineer, says that's an answer best found by contacting the engine manufacturer.
Mark Betner, heavy duty lubricants manager for CITGO, says about 70 percent of on-highway commercial trucks still operate on 15W40 engine oil, a figure he calls "a pretty bug number," and he doesn't expect that to change measurably in the near-term.
Lowering engine oil viscosity in engines not approved for it could actually increase wear, decrease overall efficiency and lead to premature component failure.
"About after model year 2011-2012, most OEMs are factory filling with 10W30," Cigala says, "and even some 5W30 engine oils."
Lower viscosity oils have passed the same tests as their thicker counterparts and, with the obvious exception of their thickness, are mostly the same.
"All additive levels are the same," Cigala says. "The only difference is the amount of base stock oil."
Thinner oil will have an effect on the engine's oil pressure, but Shell Lubricants' Global OEM Technical Advisor Dan Arcy says the change is negligible and, "you only really see that difference at idle."
"A lot of owner-operators think the more oil pressure the better," Cigala adds.
"Because oil pressure is in people's minds," Betner says. "That seems to be a gauge for performance. When pressure drops, there's people that think 'that oil isn't doing its job.'"
The improvement in flow, and the drop in pressure that comes with it, is what drives the overall efficiency gain.
"The faster flow of the thinner oil aids in [engine] startability," Arcy says. "There's less energy needed to start and engine, especially in colder climates."
Under cold conditions, Cigala says lower viscosity oils can even eliminate the need for a block heater in some instances. Since the engine isn't struggling to turnover, that also means less stress on truck batteries and the starter.
A drop in oil pressure in some older models could mean the engine control module will need to be reflashed, and trucks may see an increase in oil consumption that Cigala says "usually lasts about one oil change as the rings reseat."
Newer model engines – usually anything model year 2013 and newer – should be able to handle the switch without a dealer visit for reprogramming says James Booth, commercial sector manager for Chevron Lubricants.
Stephen Swords, president of parts and service solutions at Polit Flying J, says an oil sampling program should be part of any transition to a lower viscosity oil.
"You're looking for metals because, since it is a lower viscosity – it's not as thick – you're looking to see how your engine is wearing," he says.
Big fleets with established maintenance programs are mostly leading the shift to lower weight oils with eyes on improved fuel economy. Swords says owner operators have been slower to embrace the shift, mostly thanks to operating older equipment.
"I think a lot of that is old habits; to continue to go with that legacy product that they've used for a number years," he says, "and a thicker oil historically has provided a little better protection on older equipment."
Transitioning to a lower viscosity – specifically to a synthetic versus a conventional – will also likely come with the opportunity to extend the drain interval, Booth says, thanks in part to the additional wear protection.
FA-4 formulated oils provide added fuel benefits but are a slightly lower viscosity than CK-4 versions of the same grade and weight.
"It's formulated at a lower range of the same viscosity grade," Betner says.
However, those are currently only approved for new model year engines including 2017 and newer International A26, 2017 and newer Cummins X15 and 2010 and newer Detroit DD13 and DD15 engines.