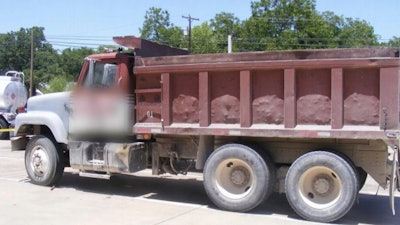 A defective parking brake on a dump truck is being blamed in the death of a Texas man.
Police in Hamilton, Texas report that 65-year-old William Shanafelt had probably been walking back to his house just after checking his mail box when he was struck from behind by a dump truck that had been parked at a store across the street.
The truck's driver had been inside the store at the time of the collision on Monday afternoon. After walking out of the store, he spotted the truck across the street in Shanafelt's yard and approached the vehicle where he found Shanafelt lying unconscious. The driver called 911.
Shanafelt was pronounced dead at the scene. The truck was found to be in violation of several safety ordinances, including a defective parking brake, and was removed from service. No criminal charges were filed, according to kwtx.com.