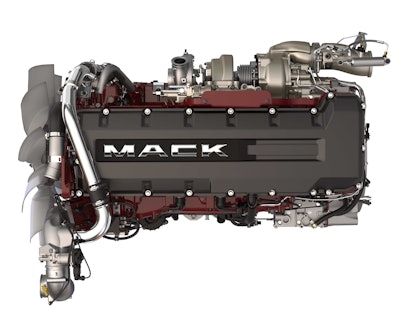 Mack Trucks is adding a high-efficiency 13-liter engine and its Mack HE+ package as available options on Mack Anthem models, the truck maker announced Thursday.
Anthems equipped with the MP8HE engine and HE+ package deliver up to a 9.5 percent fuel efficiency improvement compared to a base MP8-equipped Anthem model, and Mack Trucks Director of Product Strategy Roy Horton says the combination is SmartWay certified by the U.S. Environmental Protection Agency.
The 13-liter Mack MP8HE engine uses waste energy from the engine's exhaust system and converts it to mechanical energy that is delivered back to the engine crankshaft as added torque – a process Mack dubs "Mack Energy Recovery Technology."
"By capturing and using waste energy from the exhaust, Mack's Energy Recovery Technology allows the engine to run at lower RPM [with] less stress on components," said Roy Horton, Mack Trucks director of product strategy. "This not only improves fuel efficiency, but also helps improve durability and reliability."
The Mack MP8HE is matched to an mDrive automated manual transmission, which enables a lower and downsped cruise RPM to take advantage of the extra torque provided by waste energy recovery.
The HE+ package includes several fuel efficiency-enhancing features, including additional aero components like a roof fairing with trim tab, side fairings with extensions, chassis fairings with ground effects and an aero bumper with spoiler. It also includes Mack Predictive Cruise – an intelligent system that memorizes a route when cruise control is on, storing up to 4,500 hills in its memory. The next time a driver travels the same route, Mack Predictive Cruise engages the ideal shift strategy for maximum fuel efficiency.
The Mack MP8HE and HE+ package are now available for order.