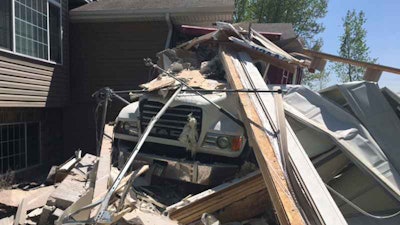 A dump truck driver who crashed into the garage of a home in Minneapolis today is blaming the accident on his truck.
The driver, who sustained minor injuries, told the Anoka County Sheriff's Office that his Mack truck had a mechanical failure before he lost control of the vehicle and plowed through the garage causing serious damage to the home, according to kstp.com.
The driver can actually count himself lucky on two fronts: No one was home at the time of the crash which happened across the street from the Oak Grove Fire Station where first responders merely crossed the road to provide assistance.