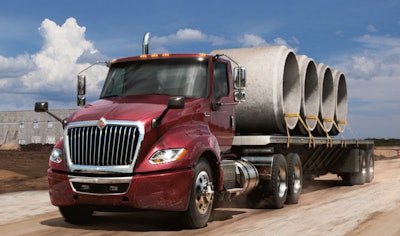 The Endurant 12 speed automated transmission, the product of Eaton and Cummins' joint powertrain venture, is now available for order on International LoneStar and LT Series trucks spec'd with the Cummins X15 engine.
The X15, which Brett Merrit, vice president of Cummins' on-highway engine business says was the number one selling heavy-duty engine in North America last year, features a 50,000 mile oil drain interval that can be extended up to 80,000 through the Cummins OilGuard program. The Endurant transmission boasts a maintenance-free self-adjusting clutch thanks to advanced clutch prognostics. In addition, the Endurant's 750,000 mile transmission oil drain interval is the longest in the industry while only consuming half the amount of oil as competitive automated transmissions.
"By offering the X15 and Endurant solution from the Cummins Integrated Power portfolio, we know we're providing our customers a solution that will help keep their operating costs low while still delivering the power they need to get their job done," says Jim Nachtman, International's heavy-duty product marketing director.