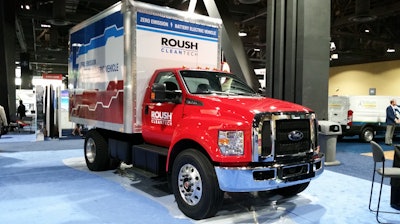 Roush CleanTech has joined the growing commercial battery electric vehicle segment by unveiling an all-electric Ford F-650 today at ACT Expo in Long Beach, Calif.
The company, which includes propane autogas and compressed natural gas in its technology portfolio, expands its alternative fuel market with zero-emission electric vehicles.
"An electric battery option for medium-duty trucks and buses is a great fit as there is increasing demand in this gross vehicle weight range (GVWR) with very few OEM solutions," said Todd Mouw, president of Roush CleanTech. "This builds from our robust foundation already in place at Roush CleanTech that supports more than 1,200 customers and 19,000 propane and natural gas units on the road."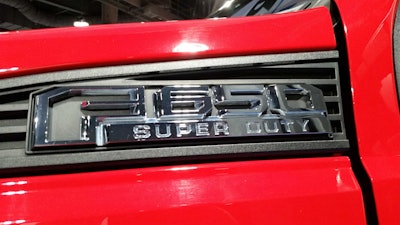 Built on the Ford F-650 chassis, Roush CleanTech's new fully electric vehicles will have a lithium ion battery system of up to 225 kilowatt hours and 700 volts. Depending on the vehicle's GVWR, the average range will be up to 120 miles with a top speed of 75 miles per hour. The AC permanent magnet motor will have a continuous-rated power of 150 kilowatts (200 horsepower), with a peak-rated power of 250 kilowatts (335 horsepower).
"We are excited to leverage the company's product development, supply chain, manufacturing and customer service expertise to support the expected growth in the medium-duty electric vehicle market," said Mouw.
However, those anxious to get behind the wheel of Roush's new EV will have to wait.
"We'll start to build true, functional prototypes in '19. We want to make sure it's fully validated and tested before we let people behind the wheel," Mouw explained. "Plus, we want to gather feedback from users in regards to what features and functions they want."
Customers will be able to choose between two-speed or direct drive. Mouw would not disclose manufacturer of the driveline.
The EV version of the F-650 appears to be just the beginning for Roush.
"We're going to start Class 6, 7, but our belief is that this will port up and down," Mouw said. "So today our focus is Class 4 through 7. We're probably going to focus on that same market, including school bus as well, but being loyal to Ford, that's probably what we're going to stick, with Ford-based products."
Given the fast pace in EV technology growth, Roush will be taking its time in further developing the F-650.
"We're going to design a couple of different battery packages for range and then we're going to pay close attention to things evolving over the next 12 to 18 months between technology and cost, I mean all of those things are changing pretty rapidly," Mouw said.
Roush is currently participating in Ford's eQVM process to become an Advanced Fuel Qualified Vehicle Modifier for electrified powertrains for commercial vehicles.