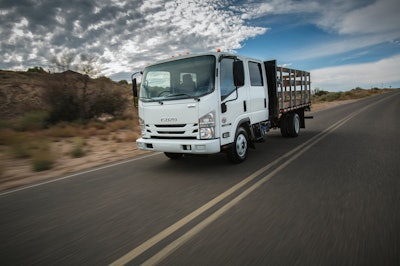 Isuzu Commercial Truck of America, Inc., is adding a new Crew Cab model, featuring seating for up to seven people, to its NRR lineup for the 2018 and 2019 model year.
Production on the Class 5 2019 NRR began earlier this year. The low cab forward truck features wheelbases or 109 to 212 inches with body lengths up to 24 feet. It's powered by Isuzu's 5.2-liter 4HK1-TC turbocharged intercooled four-cylinder diesel engine generating 215 hp at 2,500 rpm and 452 lb.-ft. of torque at 1,850 rpm. The engine is matched to an Aisin A465 six-speed double overdrive automatic transmission with lockup torque converter plus PTO opening.
Isuzu's exclusive IDSS (Isuzu Diagnostic Service System) allows diesel-model owners to receive a detailed "Health Report" from Isuzu dealers on performance data.