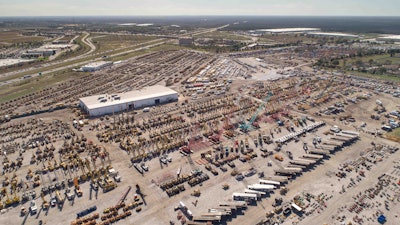 With nearly 13,000 items up for bid, Ritchie Bros. has been busy hosting its largest unreserved auction yet in Orlando this week.
Spread out over 226 acres near the intersection of Interstate 4 and U.S. Route 27 is a sea of cranes, excavators, dump trucks, semis, bulldozers, box trucks, pickups, vans and so much more.
"This is the Super Bowl of what we do," Ritchie Bros.' President of U.S. Sales Jeff Jeter explained this week at a press conference. "For me coming into the business 10 years ago, it's pretty hard to get your head wrapped around everything that goes on in Orlando."
And there's plenty that goes on. Simultaneous auctions, both in-person and virtual, equipment refurbishing, financing, transportation, warranties—all are geared towards offering sellers and buyers more of what they're looking for to improve their bottom line. And though the auction isn't over until Saturday, things are looking good for all concerned.
"It's just that kind of event and particularly this year we have seen very strong demand, good pricing, and sellers that wanted to be a part of that," Jeter said.
Industry confidence that was faltering a few years ago has been spurred by the Trump administration, according to Jake Lawson, Ritchie Bros. senior vice-president of U.S. sales.
"When things got tight a few years ago, they (fleets) wanted to rent or lease so they didn't have liability," Lawson explained. "They couldn't crowd their balance sheet with equipment, so they got lean and they rented and leased. Since, we've seen a nice uptick in the industry really over the last year.
"There are customers who have more confidence to reinvest into their fleet again," Lawson continued. "There's more work. I'm sure you've read President Trump's infrastructure proposal and plans. So, with a lot of confidence in some sustainable work, people will go and reinvest into their fleets."
Increased demand is straining supply, but it's also opening doors to more opportunities at Ritchie Bros.' websites, like TruckPlanet.com, IronPlanet.com, GovPlanet.com, SalvageSale.com and Mascus.com. The newly launched Marketplace-e found at IronPlanet, offers "a flexible, online option that provides the choice of buying and selling assets at a fixed price, negotiating offers, or via reserve (minimum) price online auctions."
As Jeter explained, Ritchie Bros. online options allow sellers to still participate in an auction without having to move their equipment to the auction site in Orlando or elsewhere. Online buyers who may not travel to see the equipment prior to purchase are attracted to Ritchie Bros. IronClad Assurance equipment condition certification.
"We'll do the inspection. We'll post that inspection online and give the buyer assurance that when they receive that equipment it is in the condition that we said it was in that report," Jeter said. "So, they don't have to physically be here to see that asset and they can be assured that when they buy that piece of equipment it's in the condition that we said it is."
Jeter told reporters that auctions make up a "very, very small percentage of the total used equipment business," and that the company will be continuing to expand its portfolio.
"We're reshaping ourselves to bring solutions much broader than auction," Jeter explained. "We have a lot of different services, whether its transportation services, warranties, whether its financing, make ready—we do a lot other things and quite frankly I think as a business as we go forward you'll see the services that we offer our customers expand significantly.
"We've got a huge marketplace on both sides of the market: supply and demand," Jeter continued. "There are a lot things and potential things that we'll do in the future to bring value beyond just the transaction."
Ritchie Bros.' Orlando auction ends Saturday. Visit their website to see the schedule of items going up for bid.