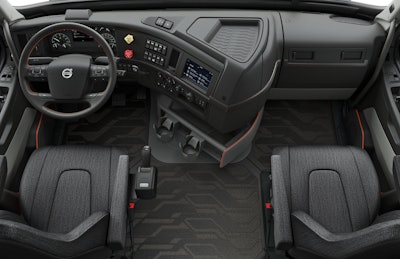 Volvo Trucks North America revealed today new interiors for the Volvo VHD series designed to enhance driver comfort and productivity in its vocational lineup.
Volvo VHD 300 daycab and VHD 400 regional sleeper model interiors revealed at the North American Commercial Vehicle Show feature LED lighting, and extensive connectivity aims to support a driver's daily work.
Volvo reports that extensive new seating choices, optimized ergonomics and driver convenience features make the VHD series the most comfortable, driver-centric vocational truck the company has offered North America.
"The new interiors for the VHD series make hard work even easier," said Wade Long, director of product marketing, Volvo Trucks North America. "Design of the VHD's new interiors was guided by feedback from nearly 2,000 professional drivers, and we've channeled that information to deliver the comfort and convenience features drivers want and fleets seek to help improve driver retention."
Keeping in mind how productivity is impacted by driver comfort, Volvo designed the Volvo VHD with an all-new dashboard which puts frequently-used controls within the driver's reach.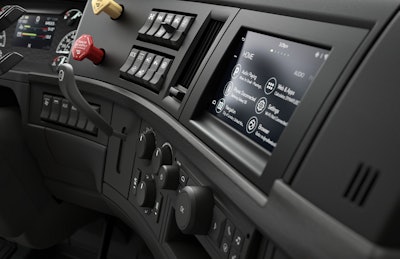 Centered in the gauge cluster is a configurable, five-inch color driver information display that provides trip and diagnostic data.
The driver information display is customizable, ensuring that critical information is readily available to the driver at a quick glance. A dash-top tray features 12-volt power and USB connectivity to keep devices charged up.
The Volvo VHD will be equipped with Volvo's smart steering wheel, which puts controls for nearly all of the driver interface functions at a driver's fingertips. The smart steering wheel is attached to Volvo's Perfect Position air-assisted, fully adjustable steering column, which enables drivers not only to tilt and telescope the steering column, but also tilt the steering wheel relative to the steering column. This feature enables drivers of varying heights to find a more comfortable steering wheel position and more easily view the driver information display. All-LED interior lighting reduces power consumption and provides softer lighting.
"Our new VHD interiors incorporate the best, most sought after features of our renown highway trucks and have been aligned with drivers' needs for tough, off-road work environments," said John Felder, Volvo Trucks North America product marketing manager – vocational. "The results speak for themselves: our new VHD interiors provide the most comfortable, driver-friendly environment we've ever offered for the vocational market."
An optional infotainment system is available, featuring a seven-inch color touchscreen, navigation and an exterior back-up camera. A premium audio system is integrated with the infotainment system, which also features Bluetooth and Apple CarPlay for the ultimate in connectivity.
A wide variety of seating options are available on the new Volvo VHD series. An increase in seat travel fore and aft, as well as up and down, improves driving ergonomics. Premium features like seat heating and ventilation are also available. Drivers can also benefit from Volvo's refrigerated passenger seat option, providing a cool place to keep food and beverages cold while out on the job.