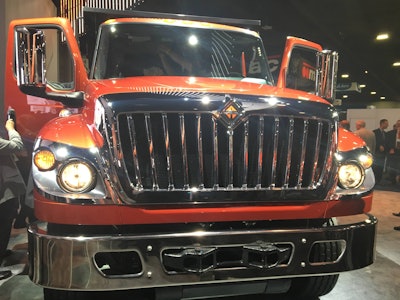 Over past two years, International has introduced a new product every 4 to 6 months, giving the Lisle, Ill.-based truck-maker the distinction of featuring the industry's newest truck lineup.
Monday, at the North American Commercial Vehicle Show in Atlanta, Navistar continued its tractor reinvention with the debut the HV Series severe service truck.
"Imagine a space that works for drivers operating these kinds of trucks," Denny Mooney, Navistar senior vice president of product development, says of the truck's driver-centric design.
"All the design features in this cab were driven by feedback from more than a 100 [vocational customers]," adds Mark Stasel, Navistar vice president of vocational trucks.
The truck, Mooney says, was designed "from the inside out" for increased driver comfort, but in the "inside out" design, the inside got more attention than the outside of the reworked WorkStar.
"One of the things we didn't change was the hood and the grille," he adds.
As with International's RH and RT trucks, newly redesigned doors remove the vent window and improve seals and minimize air leaks and wind noise. Pedestal mirrors have been moved forward, improving visibility and allowing drivers to turn their head to a lesser degree.
A new premium instrument cluster sits center of the driver, complete with driver information display, and is the same unit that featured in the LT, RH and LoneStar.
The transmission selector has been moved to a stalk on the steering column and integrated with the engine brake. The wing dash panel has been redesigned to increase knee room and an AC vent has been added in the center panel for riders. The fuse panel has been integrated in the top of the dash, another nod to the LT and RH.
The HV Series also features International's Diamond Logic electrical system for the automation of tasks and interlocks to help protect both equipment and crew and the truck was designed to ease the process of body upfitting.
"Our Diamond Logic electrical system is best known for its ability to provide control and communication between work trucks and body equipment," Stasel says. The Diamond Logic electrical system offers nearly 200 factory available body integration and driver efficiency features, plus the ability to customize more vehicle functions.
Cross member anchored tow loops prevent frame twisting. The Super Single half-inch thick fame rail is rated up to 3.35M RBM and an integral – not bolt on – 20- and 27-inch frame extension adds rigidity and a 20,000 lb. off-set bowl front drive axle allows for a lower ride height than a traditional center bowl.
Configurations range from 4×2 to 8×6 and BBCs of either 107- or 113-inch and set-forward or set-back front axles. A clean Cab-to-Axle (CA) configuration is also available. The HV comes standard with International's in-house engineered A26 engine with Cummins B6.7 and L9 engines available as options.
With an inside wheel cut of up to 50 degrees, the HV Series can navigate tight city streets.
The HV Series – available for order today – is available in a variety of specifications: Regular Cab, Extended Cab, and Crew Cab.
Also on the vocational front, Navistar says its models HX 520 and HX 620 will get a 51-inch short sleeper option next month, while the HX 515 and HX 615 will get the A26 engine in May.
Navistar also made public its intentions to upgrade features on its OnCommand Connection platform, including a prognostic platform that can diagnose faults before they occur.
"We can tell customers we will proactively identify problems before they ever happen … before anything fails on the truck and the customer experiences downtime," Persio Lisboa, Navistar Chief Operating Officer, says of the company's Live Action Plans platform.
Automated Driver Vehicle Inspection Reporting, another integrated function of OnCommand Connection, Lisoba says, will relieve drivers of much of the paperwork associated with the vehicle inspection process, but ensures a fleet's inspection protocols are followed.