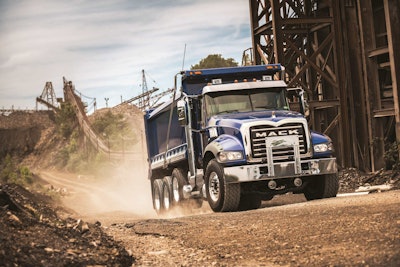 Mack Trucks is updating Granite – the best-selling conventional straight-truck in the U.S. – with an all-new interior and LED headlights.
Mack used feedback from thousands of drivers to gauge their preferences to drive the design of the new Granite interiors.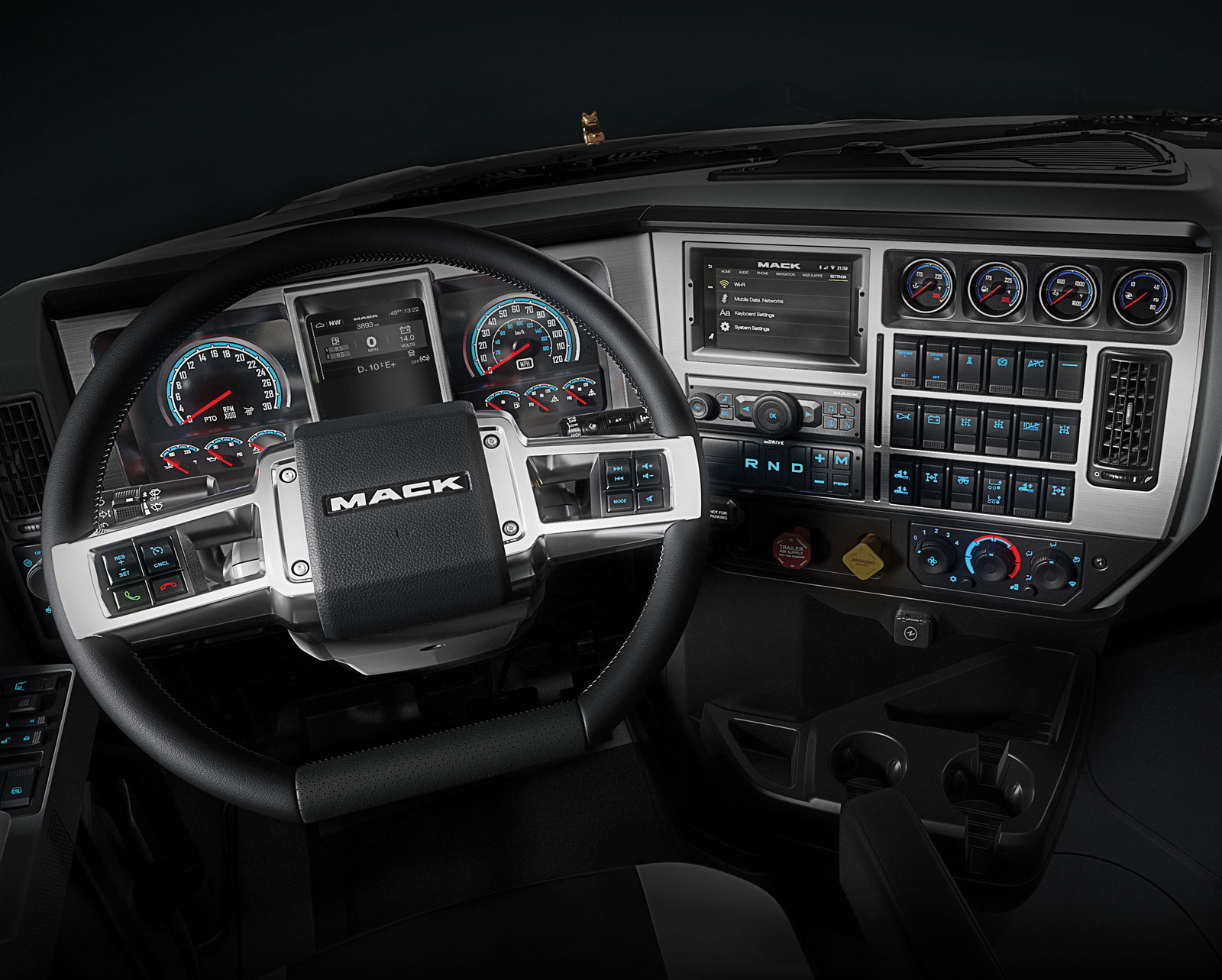 A new gauge cluster and dash layout improves visibility and readability, and puts frequently used controls at the driver's fingertips. Switches are repositioned higher on the dash, while the Mack mDRIVE automated manual transmission shift pad is now within easier reach as well. The dash panel has room for up to 18 easy-to-read switches, which feature laser etched labeling that won't rub off, even after repeated use over the life of the truck.
HVAC controls now include Automatic Temperature Control that maintains the temperature set by the driver. A new lower center console includes cup holders and storage bins, and can be easily removed for cleaning. Multiple 12-volt and USB charging ports are available throughout the dash. A new non-slip pad on top of the dash features two USB charging ports.
A racecar-inspired flat-bottom steering wheel – a first for the trucking industry – improves driver comfort and makes entering and exiting the vehicle easier. The new steering wheel, which can be equipped with illuminated cruise control, Bluetooth and audio system buttons, also gives the driver a better view of the dash.
"We've incorporated more ergonomics and comfort features to make the driving environment more automotive," adds Stu Russoli, Mack highway product manager.
Behind the steering wheel on an updated right-hand steering column stalk are the controls for Mack's Co-Pilot 5-inch display. The full-color screen helps the driver monitor operating information like engine and oil temperatures, trip odometers, aftertreatment status and tire pressures. A Pre-Trip Assistant guides drivers through inspection points and includes a single person exterior light inspection mode.
A new information and entertainment option, featuring a 7-inch touchscreen display, is available in both the Pinnacle and Granite models, providing finger-tip access to Apple Car Play, satellite radio, weather band radio and TomTom truck navigation. The display is also compatible with third-party back-up camera systems.
Pinnacle axle forward models will get all-new interiors and LED headlights, and a new grille that mirrors the look of Mack's newest highway model, Anthem.
Pinnacle axle back models are being replaced by the Anthem tractor and will not be updated before being shelved at year's end. Going forward, Pinnacle axle forward models will simply be referred to as Pinnacle.