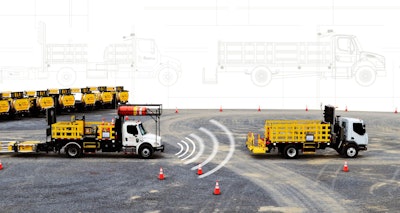 What's the next best thing to watching a historic moment in person?
Watching it live on the internet.
Royal Truck & Equipment Partners announced that the Colorado Department of Transportation is deploying the world's first self-driving work zone impact vehicle tomorrow in Ft. Collins, Colo. No one will be present inside the truck.
The livestream event scheduled for Friday at 3:30 p.m. Eastern (see Royal Truck video below) will include a press conference and a demo of the crash impact vehicle as it tags along with a CDOT work crew during a road striping job.
Royal Truck's Autonomous Impact Protection Vehicle (AIPV) is designed to follow a lead vehicle and features impact attenuators (oversized rear bumpers) engineered to absorb the impact of wayward vehicles that otherwise may strike road workers (see video below).
Between 2000 and 2014, Colorado experienced 21,898 crashes and 171 fatalities in work zones. According to the Federal Highway Administration, in work zones in 2015, there was a crash every 5.4 minutes, 70 crash-related injuries every day, and 12 crash-related fatalities every week.
Royal Truck & Equipment, the nation's largest manufacturer of truck-mounted attenuators, developed its AIPV with Micro Systems, a subsidiary of Kratos Defense & Security Solutions, and Colas, a U.K.-based transportation R&D firm.
During Friday's demo, CDOT's lead vehicle will be equipped with a roof-mounted NAV Module. A person will be driving the lead vehicle.
"The NAV Module contains a GPS receiver, system computer, digital compass, and a transceiver. It transmits GPS position data called 'eCrumbs' back to the follower vehicle, which then uses the data to follow the exact path and speed of the leader vehicle at each point along the route," Royal Truck reports on its website. "The NAV Module can be easily unstrapped and removed from one vehicle and installed on another if a different leader vehicle is required."
Though Royal Truck's AIPV has undergone testing in Florida and the U.K., tomorrow's AIPV deployment will mark the first time the crash mitigation vehicle has been unmanned. Colorado's laws on autonomous driving, unlike other states, permit unmanned self-driving vehicles so long as developers have proven to state officials that the technology is trustworthy.
The AIPV livestream demo kicks off at 3:30 p.m. Eastern on Royal Truck's Facebook page, Royal Truck's Twitter page, CDOT's Facebook page, CDOT's YouTube page and Royal Truck's YouTube page.