Knapheide's confidence in its new aluminum gooseneck flatbed comes through loud and clear.
The new bed, constructed with aerospace technology utilizing military-grade aluminum extrusions, is 40 percent lighter on average than its steel counterpart and has been subjected to plenty of tough tests, including a cinder block drop challenge similar to one GM posted on YouTube last year.
"We've done the same thing. We've taken a bucket full of cinder blocks and dropped them on there," Knapheide's Tony Marshall, manager of product strategy and marketing, told Hard Working Trucks.
"We've done even more crude testing where we've tried to see what it's going to take to cause this thing to fail. We had our biggest guy truly swing an ax and we finally got into it. All day long, we expect these things to hold well just as anything else."
Cleave, or spike testing, was also conducted where a weighted, pointed object is dropped onto the bed at a certain velocity to determine the bed's impact resilience.
Bottom line?
"We are not concerned. We have taken our time and extensively tested it," Marshall said. "The floor planks are extruded floor planks, inch and a half thick. It's sort of like I-beam construction. So that compared to a thick gauge steel, all day long, this will hold up just as well."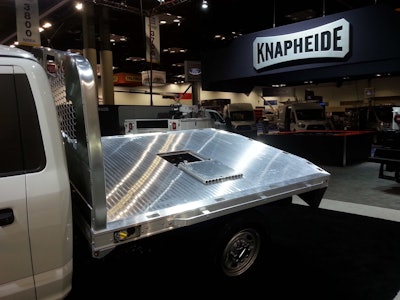 Knapheide's confidence in its latest flatbed has led it to plan for other aluminum products.
"The A-Series will start with the AL-PGNB and then move into service bodies and then a full assortment of products beyond that," Knapheide Marketing Vice President Mandar Dighe told Hard Working Trucks.
The AL-PGNB costs about 25 to 30 percent more than its steel counterpart, which amounts to a roughly $1,100 upcharge.
But Knapheide says the demand is there.
"We had a national customer of ours in here earlier and he's ready to go. He's ready to go make the switch," Marshall said recently at The Work Truck Show.
A lighter, aluminum body means fuel savings along with greater towing and hauling capacities. Also, the aluminum body is not prone to unsightly corrosion.
"There's a look factor. No matter what you do, steel's going to rust, because these are work trucks. They're going to bang it, they're going to bust it. The paint's going to come off and it's going to rust," Marshall said.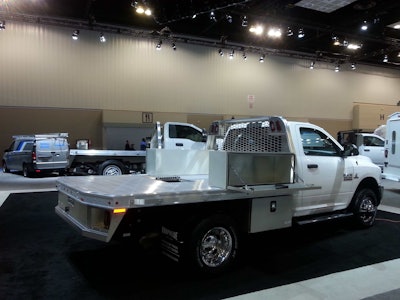 "You have your company's name on this work vehicle, so it's a rolling representation of who you are as a company. This is going to look good for a very, very long time."
An inspection of the bed at Knapheide's display area at The Work Truck Show last week revealed minimal welds.
"We use a lot of industrial fasteners and industrial adhesives. And what that does is that it allows the body to comply and allows it flex with the truck rather than act like a rigid member," Dighe explained.
The bed has already been posted in Knapheide's catalog and comes with the same six-year warranty that covers the company's steel bed.
"One of our goals—and this was a goal set by Mr. Knapheide—is that people should be able to buy our products and be confident in how they use them," Dighe said.