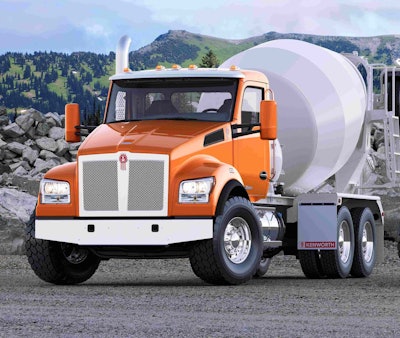 Two weeks ago, Kenworth kicked off production of its T880S, a set-forward front axle model.
Kenworth Chief Engineer Patrick Dean says the T880S is offered with a set-forward front axle ranging from 14,600 pounds to 22,800 pounds, and is standard with the Paccar MX-13 engine with up to 510-hp and 1,850 lb-ft of torque. For weight-sensitive applications, the MX-11 engine is 400 pounds lighter compared to larger displacement engines, and provides up to 430-hp and 1,650 lb-ft of torque.
The T880S has a 114-inch BBC and best-in-class 28-inch bumper setting. Also offered is the 29.5-inch bumper setting, typical in dump applications, as well as the 31.5-inch bumper setting with a sturdy box bumper.
The T880S uses a number of key features from the T880, including its five-piece hood design with bolt-on fenders.
Single, tandem or tridem drive axles and a wide variety of factory-installed lift axles, are among a range of options available to meet demanding jobsite requirements. The T880 and T880S also provide clear back-of-cab options that make it easy to configure the truck body, handle extreme loads and make it easier for body upfitting.