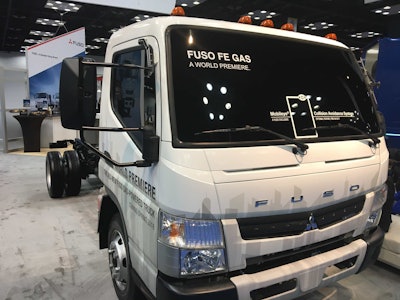 Mitsubishi Fuso on Wednesday at the Work Truck Show in Indianapolis launched a new gasoline powertrain for its FE Series medium duty cabover.
Powered by a 6-liter General Motors Vortec V8 and matched to Allison 1000 Series 6 speed automatic transmission, the truck will be available in all three Fuso models: FE130, FE160 and FE180. Each truck is equipped with a 40 gallon in-frame mounted fuel tank.
Fuso Director Otto Schmid says the gasoline truck is built from the common FE-series platform and chassis, which streamlines the upfitting process.
"It uses the same 33.5 inch wide frame, the same body attachment capability, wheelbases, cab-to-axle dimensions and box sizes [as diesel models]," he says.
Available in Class 3, 4 and 5 specs, the truck is expected to carry a maximum payload capacity of up to 12,340 lbs.
Fuso President and CEO Jecka Glasman says the new V8-powered Fuso will be assembled at Daimler's Freightliner Custom Chassis South Carolina plant and will be the company's first truck built in the U.S.
Production is slated to begin in early 2018 for the 2019 model year. Customer trials are kicking off late this year.