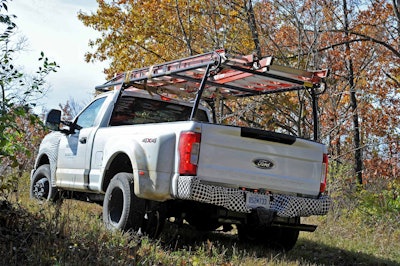 For the 2017 model year, Ford's Super Duty got a dose of high-strength, military-grade, aluminum alloy, which the company says is not subject to corrosion and is more dent- and ding-resistant than the outgoing steel cargo box.
But before making such a significant change to the company's flagship heavy work trucks, Ford wanted to be sure the new design could handle the load, and be sure it was ready for aftermarket cargo box equipment ranging from glass racks to salt spreaders.
Kirk Leonard, vehicle integration engineer for Ford, says the company drove prototype vehicles over the durability roads of the Ford Proving Grounds fitted with common aftermarket accessories to test the fitment and capability of the pickup box.
"Our team of vehicle integration engineers worked together to develop a unique design approach with the Ford Truck Body Engineering team to drive optimized panel shape, added reinforcements and up-gauged materials into the pickup box, all of which were proved beneficial in our evaluation," Leonard says.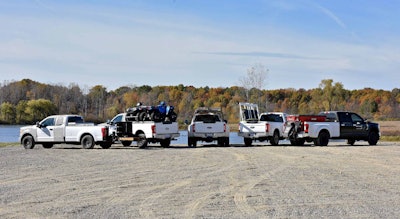 During the design of the new truck, Ford engineers performed hours of computer simulations with various aftermarket equipment examples to predict box load performance. The focus was to ensure the all-new 2017 Super Duty cargo box was as tough or tougher than previous models.
"Our modeling analysis enabled us to improve the structure and strength of the box in the design phase of the truck," says John Comiez, Ford body structure engineer.
Upon completing the challenge, the vehicles were examined in the lab by the team and no concerns were found in either the supporting structure or the mounting surfaces.