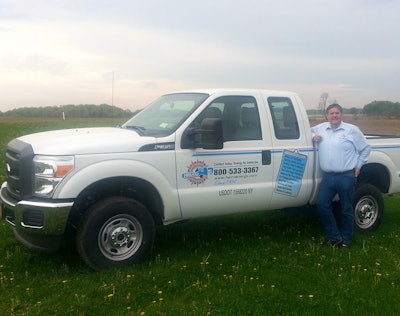 Hal Smith launched Halco as a plumbing and HVAC contractor in 1984, and his business has been constantly evolving ever since.
Today, a plumbing and HVAC contractor, Halco is a $25 million company with 175 employees, specializing in home performance work and renewable energy in Upstate New York. With this emphasis on sustainability and energy solutions, it's fitting that Halco made an investment to upgrade its fleet with cleaner, cost-efficient service vehicles fueled by propane autogas.
"We're in the business of helping people reduce their energy cost and reduce their carbon footprint," Smith says. "So it certainly goes along with our business model." When weighing the decision to make the upgrade, "that was probably the driving factor: just our core beliefs," he says.
The 25 medium-duty Ford trucks and vans that Halco purchased were converted by Roush to run on propane autogas. They have equivalent horsepower, torque, and towing capacity to gasoline versions of the same models, but emit up to 11 percent fewer greenhouse gas emissions.
While cleaner vehicles provide a boost to the company's image, converting to propane autogas — which the company purchases at less than a dollar per gallon after tax — also made sound financial sense.
Fleet analysis
Halco began the conversion process by enlisting the help of Mike Moser, founder and president of MyFleetDept, a fleet management service specializing in alternative fuels. With Moser's help, Halco applied for and won a competitive grant from the Genesee Region Clean Communities Congestion Mitigation and Air Quality Program. The grant paid 75 percent of the conversion cost to switch to an alternative fuel.
Moser worked with Halco to conduct a complete analysis of the fleet to determine the best long-term alternative fuel solution. The analysis considered vehicle performance, life cost of the vehicle, environmental responsibility, and fuel availability. "When you weighed out the different fuels, propane was just the best answer," Smith says.
Halco's service fleet includes one-ton vans for the company's service technicians and 1-ton pickup trucks used by the company's insulation and air-sealing crews to pull 20-foot trailers containing the spray foam machines. Within that medium-duty segment, the fuel choices are gasoline, diesel, compressed natural gas (CNG), and propane autogas. CNG was quickly eliminated because there was no CNG refueling infrastructure in Halco's Upstate New York territory.
Return on investment
Cost was another important consideration. Propane has a lower British thermal unit (Btu) content than petroleum, so it offers about 85 percent of the miles per gallon of gasoline, but it's half the cost of gas, more than offsetting the efficiency difference.
Halco and Moser worked with local propane retailer Phelps Sungas, a member of the Alliance AutoGas network, to establish a network of fueling stations throughout Halco's territory, as well as a fueling station at Halco's headquarters that includes a large 18,000-gallon tank that allows Halco to buy fuel by the truckload at more competitive prices.
The company will also see notable savings in maintenance costs, Moser says.
"What's nice about propane over gas or diesel is it's just so much cleaner," he explains. "You don't have the carbon buildup and the oil doesn't get dirty, so you can extend the oil change intervals. When you compare it to diesel engines, there's a huge savings. There's still a nice savings comparing it to gas engines."
Smith says his company's four full-time mechanics are well educated about propane autogas vehicle maintenance should any issues arise.
A surprising factor in the lifecycle cost of the vehicles is resale value. Contrary to what many fleet managers expect, Moser says, there's a very high demand for used alternative fuel vehicles.
"Those fleets that have jumped in and made the decision to transition, they're often looking for used vehicles to introduce into their fleet along with new vehicles to make the transition period a little shorter," Moser adds.
Halco qualifies for a 50-cent-per-gallon federal tax credit for its use of propane autogas, allowing the company to pay less than a dollar per gallon. Phelps SunGas provides administration for the fuel tax reporting, as well as a single invoice for all of the company's fuel purchased from Phelps SunGas and other partner propane suppliers. Fleet managers considering the transition to propane should know that propane suppliers can provide a turnkey propane autogas solution for fleets, Moser says.
"Transitioning to any alternative fuel is a big deal," he says. "It's a big project for a company to go through. Alliance Autogas is there to make it as easy as possible."
For Halco, it was a big project that reflects the company's modern values — and represents an important fleet upgrade. "With this grant and with the ability to save considerably in fuel," Smith says, "it allowed us to get the first 25 new vehicles we had had in 15 years."