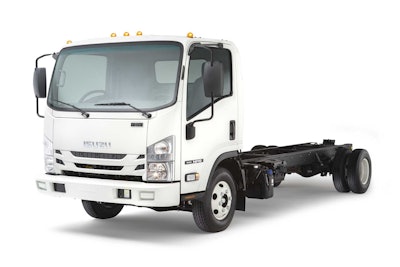 Isuzu Commercial Truck of America Wednesday introduced its newest model—the 2016 NPR Diesel, featuring a 13,000-lb. GVWR and a 33.5-inch frame.
"With a 13,000-lb. GVWR, the new NPR Diesel approaches the capacity of a Class 4 truck, but at a Class 3 price," says Shaun Skinner, executive vice president and general manager of Isuzu Commercial Truck of America.
The 2016 NPR Diesel comes standard with a 30-gallon rear-mounted in-rail fuel tank and features a frame width of 33.5 inches that will accept bodies up to 102 inches wide and 91 inches high. Four wheelbases (109, 132.5, 150, and 176 inches) are available and will accept body lengths up to 20 feet.
The new NPR Diesel is powered by the 3.0-liter 4JJ1-TC turbocharged and intercooled diesel engine, which produces 150 horsepower and 282 lb.-ft. of torque at 1,600 to 2,800 rpm. The powerplant is mated to an Aisin A460 six-speed automatic transmission with double overdrive, lock-up torque converter that operates in second through sixth gears, and available PTO.
"With its peak torque available at low and mid-range engine speeds, the 4J engine gives drivers both good off-the-line acceleration and passing power," Skinner adds.
The engine has a B-10 diesel engine life rating of 310,000 miles and is capable of running on B20 biodiesel fuel.
Production of the 2016 NPR Diesel will begin in Japan in November and will be available at Isuzu's network of nearly 300 dealers in North America shortly thereafter.