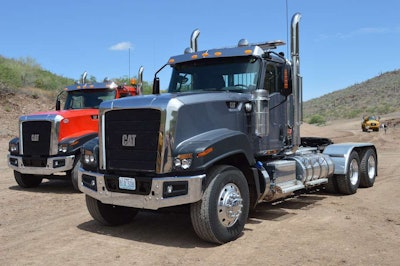 The new Cat CT680 looks considerably different from previous versions of the company's vocational trucks and that's no accident.
The bling, the styling; customers were asking for it, says Dave Schultz, vocational truck product manager.
A lot of owner-operators and fleets think a truck's looks should reflect pride of ownership and reinforce a company's brand, Schultz says. So Cat created two versions that are considerably more eye-catching than the industrial look of the CT681.
The CT680L comes to the dance with a good deal of flash: a three-piece Metton hood, three-piece chrome bumper, three-piece chrome stainless steel grill surround, composite halogen headlights and incandescent parking and turn lights.
The more subdued CT680LG sports a one-piece fiberglass hood, three-piece black bumper, integrated fiberglass grille surround, sealed beam halogen headlights and LED parking and turn lights.
Of course, like your first serious girlfriend, there's more than just eye candy here.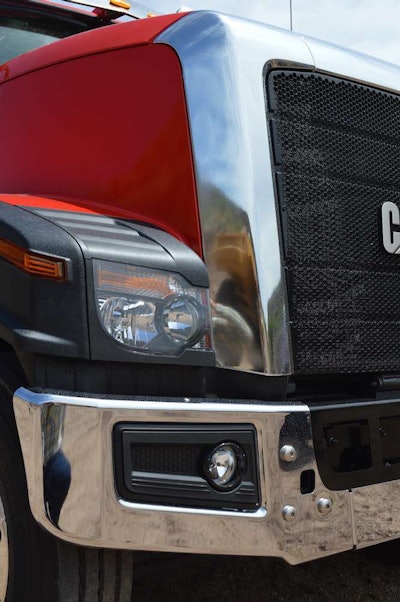 The CT680 chassis is set forward with a 124-inch BBC, which makes it Cat's longest truck by 10 inches. Combined with parabolic taper leaf suspension the far-forward front axle and long wheelbase improve driver comfort levels, especially for all day driving. The new trucks are also available in both tractor and truck configurations, and a glider kit is expected in mid-July.
A Cat CT series 13-liter vocational truck engine with dual sequential turbochargers powers the CT680. Horsepower ratings run from 410 hp to 475 hp at 1,700 rpm. Torque peak at 1,000 rpm cranks from 1,450 lbs.-ft. to 1,700 lbs.-ft. Shultz says the availability of a 15-liter engine will be announced later this year. Dual air cleaners on the outside keep the engine from choking on the dust common to many construction sites.
The power plant is married to a Caterpillar CX31 automatic transmission that offers full power shifting with six forward speeds and one reverse. To tap auxiliary power you can hook up two side PTOs and a Caterpillar exclusive rear PTO. You can also spec a variety of other trannies if you prefer, including the Eaton Ultrashift Plus vocational transmission.
Behind the bling you get an automotive style cab, all-aluminum, with leather wrapped steering wheel standard and tilting telescoping steering column standard as well. Round vents maximize airflow and hasten defrosting operations with directed streams of warmth.
As with most of Caterpillar's equipment you get a free three-year subscription to the Cat Product Link telematics system with purchase of a new truck. An infotainment system is optional as is a Bendix tire pressure monitoring system.