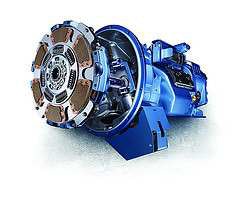 Kenworth says it is now offering Eaton's 10-speed UltraShift PLUS VAS transmission for the Kenworth T370, T440 and T470 equipped with the 8.9-liter Paccar PX-9 engine.
The Eaton UltraShift PLUS is recommended for construction, refuse, municipal pickup and delivery, and agricultural applications and incorporates an electronic clutch actuation system that enables quick shifts and clutch engagement, regardless of engine RPM.
The system automatically selects an appropriate start gear and adapts shift decisions based on driving environment. The transmission, which has a maximum torque rating to handle all medium duty engine ratings, provides better control of engine and transmission functions for smooth automated shifting and vehicle launches.
The Eaton UltraShift PLUS VAS also features Hill Start Aid, creep modes, auto neutral, and engine and clutch over speed protection. UltraShift PLUS transmissions employ grade sensing, weight computation and driver throttle commands for reliability and performance during launch and shift decisions.