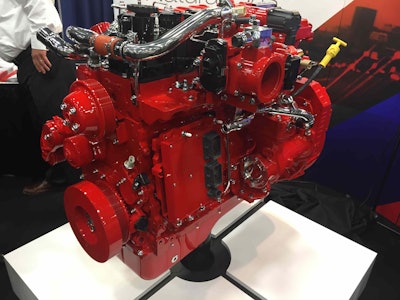 Cummins Westport launched Tuesday at ACT Expo in Dallas its ISB6.7G, the company's newest midrange natural gas engine.
Initially slated to be offered by Thomas Built buses, the engine will also be made available for medium duty and vocational markets. Preliminary specs include a range of ratings from 260 hp and 660 lb-ft of torque.
Rob Neitzke, president of Cummins Westport, says the ISB6.7G is based off Cummins' ISB6.7 diesel engine platform and will be assembled alongside it at Cummins' medium duty engine plant in Rocky Mount, N.C.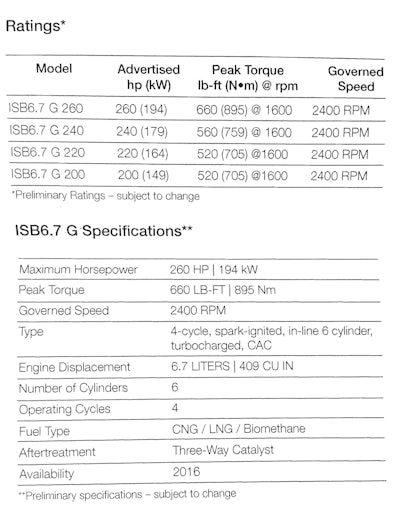 The ISB6.7G, which will operate exclusively on CNG or LNG, features Cummins Westport's spark-ignited, stoichiometric combustion with cooled exhaust gas recirculation (SEGR), which was first introduced in the ISLG. It features a three-way catalyst aftertreatment packaged as a maintenance-free muffler and will not require a particulate filter or SCR system.
The ISB6.7G is currently in field testing and is scheduled to be available to the market by mid 2016. It is expected to be certified at launch to meet EPA and CARB regulations and 2016 greenhouse gas standards.