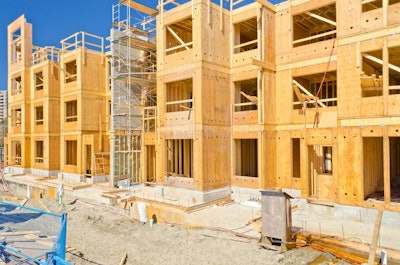 A surge in new apartment construction is the good news for builders, but slow growth in the single-market continues to disappoint.
By the numbers, soaring production of multifamily apartments pushed nationwide housing starts above the million-unit mark in April, according to the latest figures from the U.S. Department of Housing and Urban Development and the U.S. Census Bureau.
Total housing production rose 13.2 percent for the month to a seasonally adjusted annual rate of 1.07 million units, due entirely to a 39.6 percent increase on the multifamily side, while single-family production held steady.
"The flat single-family data confirm our latest surveys, which show that single-family builders remain concerned that tight credit availability and uncertain economic conditions are keeping potential buyers on the sidelines," said Kevin Kelly, chairman of the National Association of Home Builders and a home builder and developer from Wilmington, Del. "However, demand for apartment construction still remains high."
Single-family housing starts rose 0.8 percent to a seasonally adjusted annual rate of 649,000 units in April. Meanwhile, multifamily production jumped 39.6 percent to a seasonally adjusted annual rate of 423,000 units – their fastest pace since January 2006.
"The growth in multifamily production is a very positive development as it shows an expected increase in household formations from young people renting apartments and taking the first step into the housing market," said NAHB Chief Economist David Crowe. "These young households will form the demand for ownership in the future."
All four regions posted gains in combined single- and multifamily housing production in April, with the Northeast posting a 28.7 percent gain, the Midwest registering a 42.1 percent increase, the West posting an 11.1 percent increase and the South noting a 1.5 percent gain.
Issuance of building permits, which can be an indicator of future building activity, rose 8 percent to a seasonally adjusted annual rate of 1.08 million units in April. This was due entirely to an increase in the multifamily sector, where permits registered a 21.8 percent gain to 453,000 units. Single-family permits registered a marginal 0.3 percent gain to 602,000 units.
Builder confidence
As a result, builder confidence in the market for newly built, single-family homes in May fell one point to 45 from a downwardly revised April reading of 46 on the National Association of Home Builders/Wells Fargo Housing Market Index.
"After four months in which the HMI has shown little signs of fluctuation, it is clear that builder sentiment is becoming more in line with the market reality of a continuing but modest recovery," adds Kelly. "However, builders expressed some optimism that sales will pick up in the coming months."
The survey also asks builders to rate traffic of prospective buyers as "high to very high," "average" or "low to very low." Scores for each component are then used to calculate a seasonally adjusted index where any number over 50 indicates that more builders view conditions as good than poor.
The index's components were mixed in May. The component gauging sales expectations in the next six months rose one point to 57 and the component measuring buyer traffic increased two points to 33. The component gauging current sales conditions fell two points to 48.
Looking at the three-month moving averages for regional HMI scores, the South rose one point to 48 while the Midwest fell a single point to 47 and the West posted a four-point drop to 47. The Northeast held steady at 33.
Construction employment by state
And those averages are reflected in the latest employment report.
Construction firms added jobs in 39 states and the District of Columbia over the past 12 months and in 29 states and D.C. between March and April according to an analysis by the Associated General Contractors of America of Labor Department data.
Association officials welcomed the mostly positive figures but cautioned that the industry's recovery remained fragile, with construction employment levels below prior peaks in every state except North Dakota.
"Growing demand for a range of construction services and better weather helped boost construction employment in most states in April," said Ken Simonson, the association's chief economist. "But we are still a long way away from getting back to the kind of employment levels the industry experienced nearly a decade ago."
Florida led all states in both percentage and total construction gains with a 12.1 percent rise and 43,300 new jobs between April 2013 and April 2014. Other states adding a high percentage of new construction jobs for the past 12 months included North Dakota (11 percent, 3,400 jobs); Nevada (9.4 percent, 5,400 jobs) and Utah (8.4 percent, 6,100 jobs). After Florida, California added the most new construction jobs for the year (39,000 jobs, 6.2 percent), followed by Texas (23,900 jobs, 3.9 percent) and Pennsylvania (9,800 jobs, 4.3 percent).
Ten states shed construction jobs during the past twelve months, while employment was unchanged in Wyoming. New Jersey lost the highest percent, -6.8, and the most jobs, -9,300. Other states losing a high number of jobs included New Mexico (-2,000 jobs, -4.8 percent); Alabama (-1,800 jobs, -2.2 percent) and Virginia (-1,700 jobs, -1 percent). After New Jersey, the states with the highest percentage decline in construction employment were New Mexico, West Virginia (-3.7 percent, -1,300 jobs) and Alabama (-2.2 percent, -1,800 jobs).