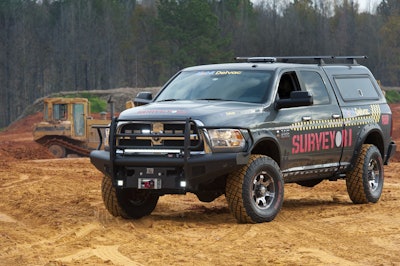 Austin Contractor/Landscaper Wins Surveyor 1 Ram 2500 Sweepstakes Truck
A year ago the editorial staff of ProPickup Magazine/Hardworkingtrucks.Com started customizing a 2014 Ram 2500 Crew Cab 4×4 into the ultimate work truck called Surveyor 1. The end goal: to give it to one lucky sweepstake's winner twelve months later.
Surveyor 1, sponsored by Ram Commercial Truck and Mobil Delvac, is finished and the $50,000-plus customized pickup truck winner, Max Davis, owner of MxRa Construction and Landscaping in Spicewood, TX, can't wait to hop in the driver's seat.
"This is a phenomenal boost to me emotionally and from a business perspective," said the businessman who served two tours in the Marines before devoting the last 30 years to the landscaping and home construction/remodeling business in the Houston and now Austin area.
"Winning Surveyor 1 will really boost my ability to bring more subs [subcontractors] and tow bigger equipment to jobsites," Davis says. "You can't believe what kind of shot in the arm winning this truck gives to myself and my company. It's just incredible."
The truck will be presented to Davis on Friday, May 23 at MxRa's offices in Spicewood.
"We wanted this big Ram Truck 4×4 diesel to have pulling power, lots of secure, yet accessible storage, passenger comfort, versatility and dependability all wrapped up in a stylish package any contractor would love to own," says Hardworkigngtrucks.Com senior editor Bruce Smith who oversaw the project.
Davis was one of thousands of entrants who signed up for the sweepstakes online, at Mobil Delvac truck/tractor pulling events, and during numerous trade shows around the country where the truck was on display.
"I saw the sweepstake's advertisement in Total Landscape Care magazine and registered online," says Davis. "Then I went to the Hardworkingtrucks.com website and followed every article as it was being built. It's an incredible truck with all the right accessories and upgrades for a work truck. My own truck is a 2012 Ram, so winning this is perfect."
Smith estimates Surveyor 1, the 2014 Ram 2500 Crew Cab diesel 4×4, has more than $15,000 in aftermarket products and upgrades.
"Our editors wouldn't have been able to build such a great work truck without all of the sponsors who helped make it possible," says Dan Tidwell, Senior VP of Market Development for Tuscaloosa, AL-based Randall-Reilly's Construction Media Group.
"Putting together such a project takes a lot of effort and we couldn't have asked for it to go to a more deserving contractor/landscaper than Mr. Davis. We know Surveyor 1 will be a great addition to his company," says Tidwell who will be presenting the keys to the winner.
To find out more about Surveyor 1, go to www.hardworkingtrucks.com.