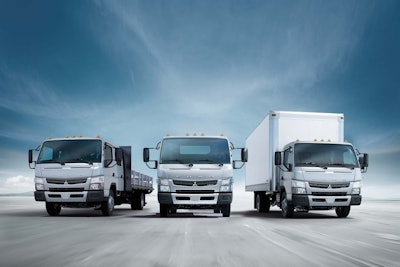 Mitsubishi Fuso Truck of America, Inc. (MFTA) said this weeks its new model year 2015 FUSO Canters are available now at authorized dealers throughout the U.S. and Canada.
Led by the new Class 3 Canter FE130 with a gross vehicle weight rating (GVWR) of 13,200 lb., the full line of medium-duty work trucks also includes the Class 4 FE160 and FE160 Crew Cab—both with a GVWR of 15,995 lb., the Class 4 FG4X4 with a 14,050 lb. GVWR, and the Class 5 FE180, with a GVWR of 17,995 lb.
All new 2015 FUSO models are powered by a 3.0L, fuel-injected, turbocharged, intercooled diesel engine coupled to FUSO's exclusive Duonic 6-speed overdrive automated manual transmission with fully automatic dual clutch control and creep function.
"Our focus with these new 2015-model Canters remains providing our customers with low cost-of-ownership, based on better fuel economy, longer service intervals, higher payload capacities and a better standard warranty package than competitive trucks," says Todd Bloom, president and CEO of MFTA. "The higher GVWR of the new Canter FE130, coupled with its long wheelbase options (up to 169.3", which can accommodate 20' bodies), provides particular versatility for delivery businesses of all kinds."
A new Engine Protection System is standard equipment for all models. This system will shut the engine down if oil pressure drops below a minimum threshold. A 33-gal. side-mounted fuel tank is optional on all Canter models with a wheelbase of 133.9-inch or longer (except the FG4X4, which comes standard with a side-mounted tank).
A new Idle Limit System is also available to automatically turn off the engine of a running Canter after a specified time of three, five, or ten minutes when parked. This dealer-programmed optional feature is a significant benefit for drivers who operate in areas with regulated maximum idling times.
In addition, 2015 model Canters are EPA13 compliant.