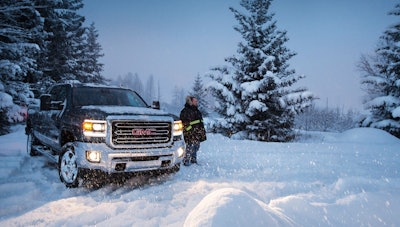 GMC Sierra and Delta Leasing Define Professional Grade
In Prudhoe Bay, dependable trucks are a tool – and a lifeline
Prudhoe Bay, Alaska, home of Delta Leasing LLC, is located 250 miles north of the Arctic Circle and is not a typical job site.
With an average annual temperature of 11 degrees Fahrenheit and winter highs deep on the negative side of zero, Polar Vortex isn't a phenomenon, it's simply another day.
Delta Leasing counts on more than 400 GMC Sierras 24 hours a day, seven days a week, and 365 days a year to provide premium vehicle service for its oil field support clients. It's a business that takes the GMC mantra Professional Grade to heart.
"Professional Grade is providing a product or service that is a cut above the rest," said Rudi Von Imhof, president of Delta Leasing. "The GMC Sierra gives us an edge because we start off with a better product and therefore offer a better service to our clients."
Delta opts for the GMC Sierra 2500 HD because of its exterior design, comfort level, and, most importantly, its toughness and ability to take off-road and harsh dirt road abuse. Some of the trucks never see a paved road.
"The GMC Sierra holds up the best of any of the vehicles we've had," said Sam Amato, vice president of Delta Leasing.
The GMC Sierra light-duty and heavy-duty pickup trucks recently ranked highest in their respective segments in a widely recognized third-party dependability study.
"Having a dependable truck reduces downtime and repair costs that affect a company's bottom line and its ability to keep clients happy," said Ed Peper, U.S. vice president, GM Fleet and Commercial. "The GMC Sierra's tried-and-true history of dependability and capability is what businesses desire."
In Alaska's environment, a truck is as much a lifeline as it is a mode of transportation or a tool to get the job done.
"Clients are out in remote job locations and if a vehicle fails, it's potentially life and death," said Von Imhof.
OnStar RemoteLink Key Fob Services, which allows the vehicle to be unlocked and even started from a remote location using a smartphone app – is a favorite feature of Delta Leasing and its clients.
"The most common call we get is people locking themselves out," said Amato. "We have the advantage of OnStar so we can quickly and safely get our clients back in the truck and back to their job."
The cabin of the Sierra regularly serves as a mobile office to both Delta Leasing and its clients. The new 2015 Sierra HD features a fully redesigned interior with enhanced comfort, smarter technologies including the latest-generation of the GMC IntelliLink infotainment system, more storage compartments, and more plug-ins for electronic devices.
Amato is awaiting his first batch of 50 new 2015 Sierra HDs and is most excited about the increased rear legroom and overall improved functionality.
The new 2015 Sierra HD is now on sale. Nearly two-thirds of the HD's cab structure is made from high-strength steel that contributes to the Sierra's quiet cabin. High-strength steel is also used in the fully boxed frame rails and major frame cross-members. The Sierra HD is assembled at Flint Assembly in Flint, Mich., and Fort Wayne Assembly in Roanoke, Ind.
The Delta Leasing story is part of GM Fleet and Commercial's "Stories from the Road" campaign.
To learn more about Delta Leasing's story, visit GM Fleet and Commercial.