EchoDrive Bolt-On Hybrid Kit Wins Work Truck Show 2014 Green Award
For the second year in a row, Echo Automotive, Inc. has been honored by the NTEA for innovative technology that brings fuel savings to fleets. This year The Work Truck Show® 2014 Green Award went to its EchoDrive bolt-on hybrid electric kit for fleet vehicles.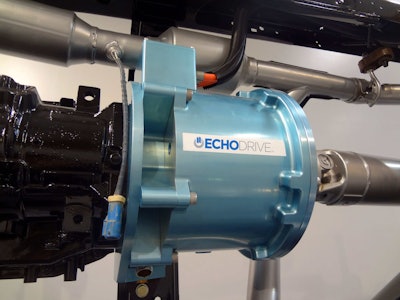 The award was presented last week during The Work Truck Show 2014 at the Indiana Convention Center in Indianapolis, IN.
Last year EchoDrive was honored at The Work Truck Show with the Editor's Choice Award for new product innovation.
The Green Award is given annually to the product at The Work Truck Show that a panel of trade media and fleet manager judges determine best enhances vocational truck fuel utilization.
EchoDrive is a plug-in system that includes an advanced battery, electric motor, inverter and charger. The components work together to provide torque assistance and recover braking energy.
While other hybrid systems replace or alter the OEM powertrain, EchoDrive bolts directly to the vehicle. Its non-invasive, cost-effective design saves fuel without affecting the original OEM warranty.
Green Award judges praised EchoDrive for offering a complete fuel-saving package that can be easily added to or removed from existing vehicles. Echo-certified technicians can install EchoDrive in four to six hours using existing mounts, keeping vehicle downtime to a minimum.
"The Green Award is significant because it is judged by actual fleet operators who deal with fuel-related issues every day," said Jason Plotke, chairman and president of Echo Automotive.
"The award, plus all the positive feedback we received on the trade show floor, validates that EchoDrive is recognized as a solid solution that can deliver real cost-savings for fleets in a variety of industries."