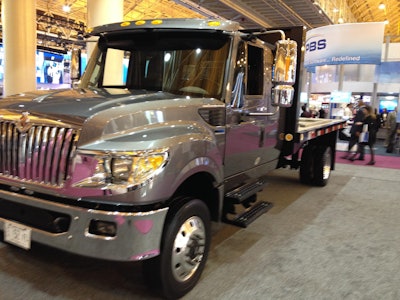 International's TerraStar 4×4 was named the 2014 Medium Duty Truck of the Year during the America Truck Dealers Expo Sunday afternoon.
Judges noted the truck's strong towing ability, tilting hood for easy access to the engine and the truck's roomy interior.
The TerraStar is powered by the 300 horsepower, 660 lb.-ft. torque 6.4 liter MaxxForce 7 engine matched with a commercial-duty Allison Optimized 1000 Series transmission.
Navistar says it's International TerraStar is designed to last twice as long as competitive models, and features a high-strength frame rails at 80,000 PSI and includes a severe service transfer case from Fabco. Due to the uniquely robust design of Fabco's gear-driven TC-28 transfer case, TerraStar 4×4 owners will have vehicle capabilities exceeding other Class 4 and 5 truck offerings in the market, the company says.
Sunday was a banner day for Navistar. Its ProStar model with Cummins ISX15 engine with selective catalytic reduction (SCR) was named the Heavy Duty Truck of the Year.