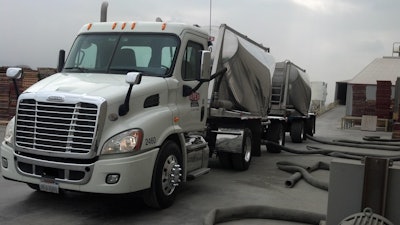 If you've ever blown a car payment on a Las Vegas roulette wheel or hit it big on a dollar slot machine, you can – at least partially – thank southern California-based Apex Logistics.
The largest bulk carrier in the region, Apex played a key role in building Las Vegas as we know it.
"We have been the primary carrier for the bulk cement used to build virtually all of the casinos constructed in Vegas since 2000," says Denny Wyatt, owner and Director of Apex Sales and Marketing.
The Apex client list are some of the staples of the Las Vegas Strip: The Bellagio, Caesar's Palace, Mandalay Bay and New York New York.
"The largest continuous pour we supported in Vegas was 20,000 cubic yards that required 200 truckloads of cement delivered continuously during a 14-hour period," says Steve Gale, President of Apex Logistics. "We kept the highway between Lucerne Valley, Calif. and Las Vegas pretty busy during that job."
Apex's involvement in the building of a desert gambling oasis isn't limited to hotels. If you have visited Las Vegas recently, you've probably stood on cement provided by Apex.
And outside the glitz and glam of Sin City, Apex has become a key player in a different kind of glitz and glam: the mineral kind.
"Nevada is the No. 1 state in gold production in the U.S." says Wyatt, who served as the 2010 President of the California Trucking Association and was Chairman of the Board for the Association in 2011. "We deliver all of the quick lime used by Round Mountain Gold to produce approximately 900,000 ounces of gold per year."
Wyatt says Apex operates 260 trucks and 335 trailers, employing 205 drivers and has contracts with 85 owner-operators.
"Last year, our driver turnover rate was 43.5 percent," Gale says against an industry average of nearly 100 percent. "If you're not a driver in this company, you work for the drivers and you support them. We live and breathe the RSVP program. We Respect, Support, Value and Protect our drivers."