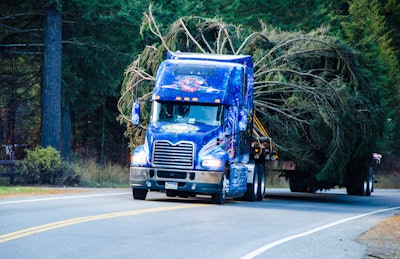 The Capitol Christmas Tree arrived at the U.S. Capitol after making its way from a forest in northeast Washington state.
The tree was installed on the Capitol's west lawn Monday, and organizers say it will be decorated with more than 5,000 ornaments handmade by children across the country.
A tree lighting ceremony is scheduled for Dec. 3 at 5 p.m. Following the lighting ceremony, the tree will be lit each night until 11 pm throughout the holiday season.
The tree made stops in Texas, Arkansas, Tennessee, Virginia, Pennsylvania and Maryland on its way to the nation's capital.
The U.S. Forest Service is in charge of cutting and maintaining the tree, and more than 300 people joined the U.S. Forest Service and state and local government representatives Nov. 1 to celebrate the harvesting of the 88-foot, 80-year-old Engelmann Spruce.
The tree was hauled cross-country by a 2014 Mack Pinnacle Axle Back model.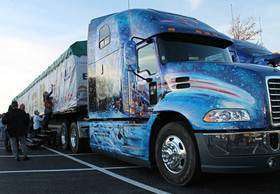 The Pinnacle was wrapped with a custom-designed decal featuring Mack's signature bulldog pulling a Christmas tree toward Washington, D.C., and was equipped with the Mack mDRIVE automated manual transmission and the MACK Twin Y air suspension system.
"Hauling an almost 90-foot symbol of this magnitude is a special job," says John Walsh, Mack vice president of marketing. "We're proud to provide a product to do it that's not only durable, reliable and efficient but also distinctly American."
Mack Trucks has been a sponsor of the Capitol Christmas tree tour several times during the last few years, most recently in 2011 and 2012. In addition to the truck hauling the tree, Mack is also providing a second Mack Pinnacle model that will haul companion trees to decorate other parts of the U.S. Capitol.