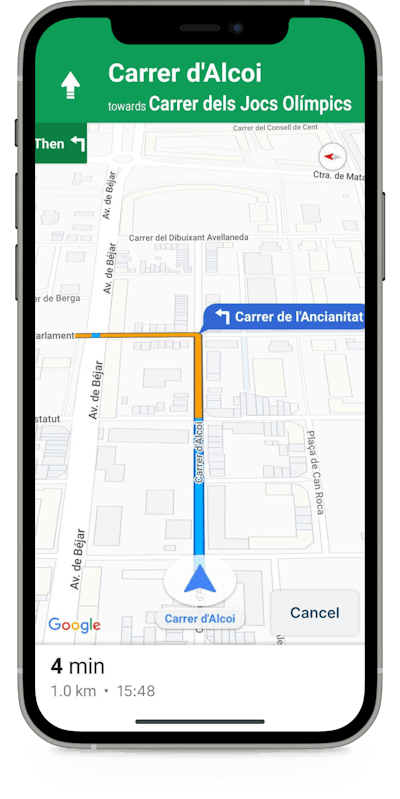 Google on Thursday leapt into the final mile with the launch of an integrated suite of mapping, routing and analytics capabilities: Last Mile Fleet Solution from Google Maps Platform and Cloud Fleet Routing API from Google Cloud.
Cloud Fleet Routing API focuses on the route planning phase of delivery and allows operators to perform advanced fleet-wide optimization, enabling them to determine the allocation of packages to delivery vans and the sequencing of the delivery tasks. Natively integrated with Google Maps routes data, Cloud Fleet Routing API can solve simple route planning requests in near-real-time and scale with parallelized request batching. Across this spectrum, customers can specify a variety of constraints such as time windows, package weights and vehicle capacities.
Google Cloud Managing Director of Global Supply Chain and Logistics Industries Hans Thalbauer noted that the pandemic accelerated both e-commerce and the number of deliveries, which were already growing rapidly.
"The increased strain on delivery networks, plus many other factors like driver shortages, poor address data, factory closures and an increase in fuel prices, have impacted delivery time and success," he added.
Built on the On-demand Rides and Deliveries mobility solution from Google Maps Platform, which is already used by ride-hailing and on-demand delivery operators around the world, Last Mile Fleet Solution focuses on delivery execution and allows fleet operators to optimize across every stage of the last-mile delivery journey, from e-commerce order to doorstep delivery.
However, Google Maps Platform Group Product Manager Shalin Mantri said Last Mile Fleet Solution and Cloud Fleet Routing currently does not account for commercial vehicle constraints or low bridge clearance.
"That said, our team is exploring support for commercial vehicle routing, which we would bring to both LMFS and CFR in the future," Mantri added.
Beyond the defaults used for Google Maps users, Mantri said customers will have the ability to customize both maps and routes to better suit their needs.
"For example, for routing requests to Google Maps Platform APIs and Cloud Fleet Routing API, customers are able to specify a cost per minute or cost per mile, which will optimize the routes for speed or distance, respectively," he said. "We've been designing our routing platform to handle even more of these customizations in the future. For the map itself, customers are able to customize the styling to match the look and feel of their brand. They can also change the types of markers that appear, e.g. if they want to highlight gas stations for their drivers but not retail stores."
When implemented together, Last Mile Fleet Solution and Cloud Fleet Routing API enables address capturing to help obtain an accurate address and location for each pickup or delivery; route optimization to help ensure drivers are provided with routes that optimize around the fleet's constraints — including delivery time windows — and adapt based on real-time traffic; driver routing and navigation to deliver a seamless driver experience and improve route compliance with in-app navigation powered by Google Maps; shipment tracking to keep consumers updated with live, day-of shipment tracking, including up-to-date location and arrival times of customer packages; and fleet performance to enable visibility into real-time route progress and shipment insights for operations teams.
Last Mile Fleet Solution is now in Public Preview for companies that directly manage or own their delivery fleet. Cloud Fleet Routing API will be generally available in the coming weeks.