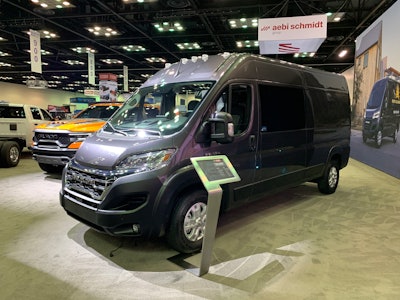 Tom Quimby
As ecommerce continues to fuel the last-mile delivery segment, Ram is striving to build on segment-leading gains with its refreshed 2023 Ram ProMaster.
The van's facelift is the most striking change for the unibody van which enjoyed a 24% surge in sales last year over 2020. GMC Savanna, with a 17% uptick, was the only other full-size van that realized a market share gain in 2021. Chevy Express sales fell 19% and Ford Transit sank 24% during that same time.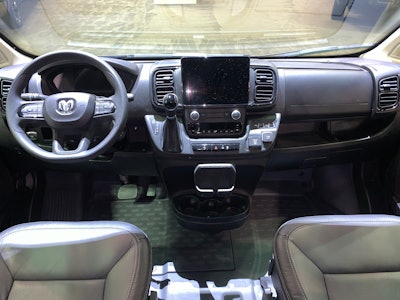 Ram CEO Mike Koval was visibly excited when talking with Hard Working Trucks at The Work Truck Show about ProMaster's refresh and its potential to earn even greater market share.
"Over the last couple of years, we've seen the last mile delivery service really expand exponentially," Koval explained. "And we believe that the appeal of our new roof and with the refreshed interior and best in class cargo capacity and roof height will further broaden Ram's appeal to not only fleet commercial customers, but also retail customers as well."
While talking about 2023 ProMaster's 3.6-liter Pentastar V6 and 9-speed Torqueflight transmission, which when paired up with electric power steering delivers a 9% fuel gain over the prior powertrain, Koval quickly shifted to Ram's plan for zero emissions.
"What we're really excited about and where the market is taking us is into is full-electrification," Koval said. "Ram will offer a battery-electric ProMaster starting next year. In fact, we've announced that Amazon has signed up to be our first commercial customer."
Stepping up storage
As Ram pivots ProMaster to all-electric, they'll do so with a goal of cranking up safety, cargo capacity and comfort as their 2023 model clearly suggests.
With cargo-handling capability being the number one consideration for van buyers, Ram is now offering three roof heights including a new super high roof configuration, which paves the way for best-in-class cargo volume and best-in-class interior cargo height.
"The biggest innovation we have is that we've added an H3 roof height, or a super high-roof van," said Dave Sowers, head of Ram commercial marketing.
The super high-roof offers 7-feet, 2 inches. The high-roof provides 6-feet, 4 inches of cargo height while the standard low roof comes in at 5-feet, six inches. Those three roof heights are available across 19 configurations which includes three wheelbases and four vehicle lengths resulting in cargo lengths of 8-ft, 10-ft, 12-ft and 13.5-ft.
A crew van package provides a second row of seats with a solid partition to help with climate control. When spec'd with a bench seat in the front and back, the 2023 ProMaster can provide seating for up to six "and still maintain up to 9-feet of cargo behind that," Sowers said.
While standing in the back of the 2023 Ram ProMaster 3500 spec'd with a super high roof and new black appearance package, Sowers explained that the two-seater offers a max payload of 4,680 lbs. and a best-in-class 500 cubic feet of storage "that provides the opportunity to be more efficient with your van by being able to haul more goods at one time."
Ram has tackled cargo access as well with doors that can be opened up to 260 degrees to allow wide access at the business end. A new aluminum roll-up door in the rear can also be spec'd on the 2023 model to enable quick and easy access to cargo.
"We also have the lowest load floor height that's facilitated by our front-wheel-drive configuration, so it's easy to step in and step out," Sowers said.
Ram also offers the most vertical side walls which "helps us with tucking shelving to the sides and making the most use of our space," Sowers added.
An optional overhead LED light operates on a timed circuit, motion detector or on-off switch and easily lights up the back of Ram's biggest van.
Changes up front and inside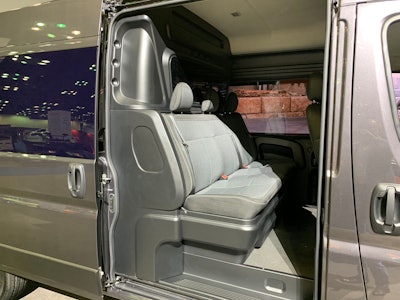 The front fascia refresh on the 2023 ProMaster is one of the most noticeable differences. Gone is the blunt, fat lip look on prior models. In its place is a more elegant design that Sowers said "gives it a more serious and modern look. We really feel that it's a real step forward in terms of appearance."
I'd have to agree. New headlights also help convey a more refined look while providing a brighter view down the road. The base halogen light is 29% brighter than the previous model and an LED option is 70% brighter.
Getting inside the van is easier with proximity sensors. Each door has a particular code so that the driver doesn't unlock all the doors when approaching one door. Once inside, a standard push-button start allows the driver to continue to keep the fob in his pocket while starting the van.
The steering wheel features additional buttons that allow for greater control at the wheel. A new UConnect 5 media system controls a standard 7-inch or optional 10-inch display and is five times faster than the previous system. Up to five profiles can be stored.
A digital rear view mirror uses a camera mounted on the back of the van to "allow you to see the road behind you in all driving modes," Sowers explained. The mirror can be turned off to allow for a conventional mirror view.
"It improves safety and driver fatigue," Sowers said. "We think this is a pretty big innovation."
Another new available safety feature for 2023 includes parallel/perpendicular park assist. Other changes for 2023 include optional black machined face or silver alloy wheels and exterior colors ceramic gray and spitfire orange. The 2023 Ram ProMaster will be available on dealer lots in the third quarter of 2022.