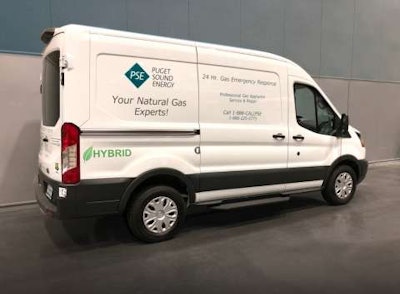 Washington state Puget Sound Energy (PSE) recently announced the acquisition of 40 new 2018 Ford Transit vans equipped with XL hybrid systems.
The upgrade is expected to reduce each van's carbon footprint by up to 20 percent and increase fuel economy by as much as 25 percent. One of the vans will be on display until tomorrow at the Green Transportation Summit & Expo in Tacoma, Wash.
"We know our customers value the environment, so we were excited for the opportunity to reduce our carbon footprint through our fleet vehicles," said Wayne Gould, director of corporate shared services at Puget Sound Energy. "This is another step for PSE to invest in the development of cleaner alternatives and technologies."
Emissions concerns coupled with growing gas prices are motivating more fleets to take a closer look at hybrid systems which XL offers for popular fleet vehicles produced by Ford, Chevy and Isuzu.
Last month, XL reported record sales for 2017 and over 60 million customer driven miles. Clay Siegert, XL's chief operating officer, is optimistic about the rest of 2018.
"We have a steady stream of interest regardless of fuel cost, but there's no question we've continued to see an uptick in fleet inquiries as prices have spiked in recent months," Siegert said. "In fact, gas prices are currently at a 3-year high, so we're expecting even more inbound interest over the remainder of the year."
PSE worked with XL to upfit each Ford Transit with an electric motor and advanced lithium-ion battery pack, as well as the XL Link connected vehicle system. The XL system allows PSE vans to save fuel through regenerative braking, which simultaneously charges the battery and in turn helps power the vehicle when the driver accelerates.
"Puget Sound Energy's fleet initiative was a natural fit for XL's unique electrification solution, which is ideal for improving fuel economy in stop-and-go driving conditions, increasing driver efficiency, reducing brake and engine wear, and meeting long-term sustainability goals," Siegert explained.
Specs on PSE's 2018 Transit vans:
130-inch wheelbase (standard)
3.5-liter gasoline engine
GVWR of 8600 lbs.
Mid-roof design
XL systems are also available on 3.7-liter gas Ford Transit engines and are compatible with all Transit wheelbases and roof heights. For a list of all vehicles compatible with XL upfits, visit xlfleet.com.