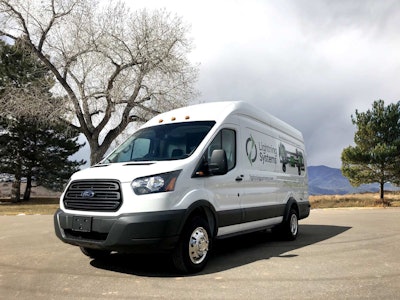 Lightning Systems has developed a zero-emission hydrogen fuel cell range extender for its all-electric system for Ford Transit which is expected to roll out this month.
The LightningElectric battery conversion package available for Ford Transit as part of Ford's eQVM program was announced last September. Customer deliveries will begin this month as planned.
The new Lightning Systems zero-emissions hydrogen fuel cell range extender for the LightningElectric Ford Transit has been developed in partnership with several industry partners and will extend the range of the LE 50 to over 200 miles. It will be available in California beginning in September 2018 where vouchers for fuel cell vehicles and infrastructure exist.
"We're excited to deliver the LightningElectric zero-emissions Ford Transit this month as promised. Our road testing validated an industry-leading EV efficiency, and it is smooth, quiet, and fast," said Tim Reeser, CEO of Lightning Systems.
Reeser said the EV will be available for a test drive in April in California and New York. Locations will be announced soon.
Both the all-electric and the zero-emissions hydrogen fuel cell range extender are available for heavy-duty Transits with a 10,360-pound gross vehicle weight rating (GVWR). Ford's vehicle warranty covers the base chassis for vehicles with the Lightning conversions. Installations and service are performed by Ford QVM upfitters and dealers around the world.
The all-electric Lightning product features a liquid-cooled, lithium-ion battery that can be fast-charged in thirty-minutes on DC fast charging, and in six hours with Level 2 charging. Depending on battery option and drive cycle, LightningElectric has a payload capacity of up to 4,000 pounds.
Reeser added, "I'm especially thrilled to announce the upcoming zero-emissions hydrogen fuel cell range extender for the Ford Transit. It is a natural step for Lightning with our extensive experience with sensor-equipped high-pressure composite vessels that we pioneered with our hydraulic hybrid offering."
The LightningElectric fuel cell range extender uses hydrogen stored onboard in high-tech carbon fiber-wrapped pressure vessels equipped with sensors. The hydrogen will be delivered to a fuel cell to charge a lithium-ion battery with up to 30kW of power. The vehicle will have a range of over 200 miles and top speed of 75 mph.
Lightning Systems, formerly known as Lightning Hybrids, is headquartered in Loveland, Colo. New Lightning Systems products are being introduced over the next two years to support commercial and government fleets.